Kano state govt to spend 13 % of its 2018 budget on health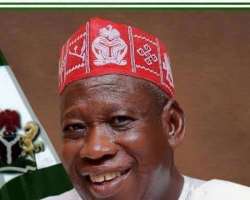 Governor Abdullahi Umar Ganduje of Kano state has said that his government allocated 13 percent of its 2018 budget to the health sector as part of deliberate attempts to improve quality health care services.
The government allocated N9.7 billion to the health sector this year for infrastructural development andto promote preventive health care along with curative intervention, in collaboration with development partners.
Governor Ganduje stated this in a video teleconference for the 2017 health program year, which set out to revise the goals and objectives as well corresponding progress made since the commencement of the government's tripartite agreement on health, with and Dangote Foundation and Bill and Melinda Gates Foundation.
According to him, "the government aims to strengthen the control of HIV/AIDs and Tuberculosis, Polio eradication, Malaria control, cholera, measles control and other child killer diseases in collaboration with development partners".
The governor stated that two specialist hospitals at Giginyu and Zoo road have been equipped with modern facilities in 2017, while attention would be focused onprocurement of specialized medical equipment and upgrading of primary health centers this year, to enable them cope with the challenge of ensuring a healthy citizenry
He thanked the principal MOU partners as well other development partners working in Kano health sector and implored them to sustain the current tempo of technical support to the State Ministry of Health and its agencies.
Alhaji Aliko Dangote, chair, Dangote Foundation, commended the state on the progress made so far especially on the continued commitment to the 100 percent funding for routine immunization program.
He opined that "the state government should do moreregarding community engagement work, in trying to generate demand for immunisation and primary healthcare, and for improved transparency and inclusion of partners/technical working groups in all procurement processes moving".
In his remarks, Mr. Bill Gates, co-chair, Bill and Melinda Gates Foundation, stressed the importance of data quality, urging the Ganduje administration "to step up its efforts towards strengthening broader primary health care services". He also highlighted that, with the ongoing developments in primary health care Kano, the mortality of under-5 children in is set to reduce in the next few years.
The Emir of Kano, Muhammad Sanusi, advised the State Ministry of Health and its agencies to consider prioritization of some selected local government areas before scaling up other community based health interventions, especially leveraging on the modern technology. He also tasked the State government to augment its budgetary allocation for health as enshrined in the Abuja declaration.
Meanwhile, Governor Ganduje received a donation of 72 motorcycles and 45 mobile phones from the World Health Organization through its Country Representative Dr. Wondimagegnehu Alemu, who announced that the contribution is to assist the government in disease surveillance across the 44 local government areas of the state.