If you Can't Stay Without S3x, Please Use Condom…Anita Joseph Preaches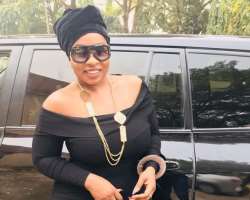 Nollywood actress, Anita Joseph, is not happy with the way some ladies continue to mock God through their silly attitude by throwing their babies away.
She wondered how they manage to go through the process of nine months journey and the labour that comes with it and at the end, the thro the baby away and still find happiness I their actions.
Well, she is not wicked but she has interceded for those who do not have for God to bless them and harken his heart on those that don't deserve them.
According to her, "Father Lord I Sincerely beg you to kindly give children to those that Truly seek for them who's homes are in trouble because they haven't conceived biko. Am not commanding you lord Am only pleading. Don't give those that don't need them. So I keep wondering how ladies go through 9 to 10months of pregnancy And through labour, then Deliver the child and throw them away, tell me how ,because am heartbroken by the things I see and hear about abandoned kids, how do they do it. Such cruelty, such evil If you can't abstain Plz use condom haba."