Group Lauds Aregbesola's Response To Security Challenges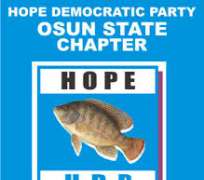 The Osun State Chapter of Hope Democratic Party (HD has commended Osun State governor, Ogbeni Rauf Aregbesola for his efforts at uniting and securing the state and her citizens.
Also commending all the security agencies for their proactive initiatives that led to peaceful existence among the citizens of the state. The party however called for more cooperation and intelligence sharing among the citizens of the state and security agencies.
In a release signed by its State Chairman, Mr. Wole Adedoyin, the party applauded the governor for providing modern equipment to the various security agencies to fight crime in the state.
"Osun State has not only committed huge financial resources to provide the state-of-the-art equipment to fight crime, but has also provided the right leadership needed to ensure that the equipment are adequately put to use."