LG polls: Lawyer slams Osun gov't for declaring two days as public holiday
·         Says action was a deliberate move to stall court processes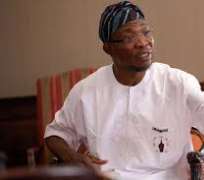 Human right lawyer, Barrister Kanmi Ajibola has slammed the Osun State government for hurriedly declaring Thursday and Friday as public holiday, saying it was a deliberate move to stall the continuation of the ongoing court proceedings already fixed for Thursday (Tomorrow) over the state Local Government parliamentary election billed for Saturday, January 27.
Bar. Ajibola who spoke in Ilesa on Wednesday insisted that there was no basis for the two days holiday declared by the state government.
"This is quite unfortunate. This is a coward action by Mr. Rauf Aregbesola and his government. We were still in the court premises on Tuesday when government lawyers were boosting that they will inform the governor to declare Thursday and Friday as public holiday so as to halt this process.
"I thought it was a joke that two days holiday will be declared over local government election. Even when the governorship election was conducted, only one day was declared as holiday. Anyway, no matter the tactics, this LG election will not stand.
"I suspect foul play. I suspect high level of corruption somehow. I suspect some people were insisting in going ahead with this election which they knew cannot be upheld by any court in Nigeria to line their pockets with the proceeds of the polls. If not, why the desperation and the hurry? But we shall get there at the appropriate time", he stated.
Justice Kola Adegoke of the State High Court, Ilesa had adjourned the case instituted by Ajibola against the state governor, Mr. Rauf Aregbesola, the State House of Assembly, the State Independent Electoral Commission (OSSIEC) and eight other political parties asked the litigants to return for further hearing on Thursday, January 25.
Although, counsel to the state government who is also the state Solicitor-General had canvassed that the matter be brought back on Friday, the judge insisted that justice must be done on the matter as the day canvassed for by him was so closed to the purported date for the polls.
Justice Adegoke hhe directed that on Thursday, he will hear the application for injunction seeking the court a restraining order against the conduct of the election, the preliminary objection filed by the defendants challenging the jurisdiction and all other pending motions.
He warned that his court will not entertain any motion for adjournment as litigants in the case must file and serve all the appropriate papers in the suit, "Justice must be done and the court has to give accelerated hearing to the matter at hand since the said election is said to be slated for January 27".