NCSDC Intercepts a Tanker Diverting 45,000 Liters of Petrol in Yobe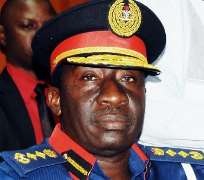 The Nigeria Security and Civil Defense Corps (NCDSC) has intercepted a tanker diverting 45,000 liters of petrol from
Yobe State yesterday.
The Commandant, NSCDC, Yobe State command, Ayinla Taiye Olowo, said intelligence report indicated that the
tanker was being driven away to offload the product somewhere in Kano.
"Before we could act, it had already crossed Yobe boarder towards Kano. So, we collaborated with our Kano command and the truck was intercepted," he explained.
Olowo added also that the tanker was returned to Potiskum NNPC office and was registered before being taken
to the designated filling station in Gashua, where they supervised selling the product at government approved price of N145 per liter.
According to the Commandant, though NNPC and DPR were doing their best to ensure regular supply, the errant marketers were sabotaging the effort.
The commandant further warned that his command would not spare any body found hoarding or diverting the product to sell at exorbitant price.
"I am happy to inform that, black marketers had gone under the ground as a result of our regular patrol and raid on their hide outs. Also, we will continue our stop and search of petroleum tankers to checkmate illegal activities of the marketers since it had started showing results," Olowo said.