Garlands as KUF Founder Marks 40th Birthday in Pomp & Style
…Says Kalabaris Will Support Gov Wike in 2019 & Position For 2023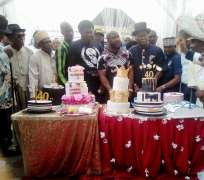 Glitz, colour, glamour and pomp are just few words to describe the atmosphere as erstwhile Niger Delta Freedom fighter, Peace Ambassador and Leader/Founder of Kengema Unity forum, KUF, Hon. (Amb.) Sobomabo Jackrich recently marked his 40th birthday in grand style at his palatial residence in Usokun, Degema LGA of Rivers state.
Jackrich a former Caretaker Committee Chairman of Asari Toru Local Government Area and vocal Kalabari advocate used the occasion to further drum support for the incumbent Governor of Rivers state, Chief (Barr) Nyesom Ezenwo Wike for re-election in 2019. According to him, the entire Kalabaris will throw their weight behind His Excellency Governor Nyesom Wike and strive for a Kalabari person to succeed him come 2023.
Speaking in a well-attended Birthday reception that attracted the crème de la crème of society and high networth individuals like Former Secretary to the Rivers state Government and Director General of Wike Solidarity Movement, Hon. Gabriel Pidomson, Chief Diamond Tobin West, Sen. Denton West respected Kalabari Chiefs, PDP stakeholders, KUF members, Kalabari chiefs, sons and daughters including well-wishers and friends, he said Kengema Unity Forum was in the forefront of agitation to have a Kalabari Governor in 2015 because of glaring distrust as at then. However the present Wike administration since it came on board has shown sincere, pragmatic, purposeful, development and people oriented leadership presence, unlike the last administration which wasted the entire eight years. The Wike leadership and development strides has been instrumental to our decision to support his second term bid and later position ourselves to succeed him with the Kalabari Governorship agenda in 2023".
According to him, being in leadership position has its challenges, even when you do the needful you still face criticisms, "I have been part of the Niger delta struggle that have brought us this far, however we must not always fight, we must explore other avenues that will bring the needed peace and development to our people. For me I have the capacity to stand firm in the face of adversary, however, I have decided to tow a line that will promote and encourage socio economic prosperity of our people, one that will encourage peace unity, understanding and cohesion", he said, adding that the people believe that a powerful man is one that has guns and considerable amount of wealth," for me, I believe that a real powerful man is one that will use his powers to engender peace, unity and position his people on the path of progress which is what I represent" he said.
The outspoken KUF leader said he is not and has never been a cultist, adding that his quest to touch lives and engender peace and development of his people are accountable for the presence of respected and responsible Kalabari sons and daughters including individuals from other tribes to interface and interact with him, "I have the youths and persons old enough to be my father and mentor with me because they believe in my course and sincerity of purpose".
According to him, "You cannot be adjudged a strongman if you cannot use your power to drive the process of peace and unity for your people, you cannot be adjudged a strongman if you fail to use such power positively to affect the lives of your people.. I will continue to affect lives, engender peace and always stand for justice.
On his 40thbirthday, he said: ""I embrace the fullness of this milestone age with grace, humility and gratitude to God for the opportunity to attain the very significant age of 40, Let me also extend similar gratitude my mother for being the vessel through which I came into this world and for my lovely children. Honestly I am short of words to describe how I feel with the outpouring of love and the privilege to be alive, to be surrounded with amazing friends and family; from the bottom of my heart, let me sincerely and profoundly express my gratitude to all and sundry that turned out en masse to share this momentous occasion. I wouldn't have gone this far without your unflinching support, love and encouragement" he was quoted as saying.
Some of the dignitaries at the event who spoke includes, Former Secretary to the Rivers state Government and Director General of Wike Solidarity Movement, Hon Gabriel Pidomson who described the KUF leader as a colossus who has chosen to take the road less traveled. He said he is a beacon of hope to the Kalabari ethnic nationality and beyond, and a strong PDP and Wike Solidarity member held in high esteem. He thanked God for his life of transformation and pray God to continue to use him greatly to change the narratives for youths and the Niger Delta.
Paramount ruler of the Jackrich community Alabo Ibaniama G.B Jackrich described him as a great man in the history of Kalabari. When a child washes his hand well, he dines with his elders, Sobomabo has indeed washed his hand well and we pray God continues to bless him. KUF ASALGA Chairman, Mcharry Obele in his toast described him as an erudite politician and a blessed son of Kalabari and a true leader.
Rev Kala-Dokubo in charge of Rivers African Church in his word of sermon at the event said he should continually abide and root himself in the Lord to direct his every action, protect, groom and flourish him.
Highlight of the event was the cutting of numerous Birthday Cakes, performance by members of the Performing Musicians employers association (PMAN led by Arthur Pepple, a presentation by children from the Glorious Foundation group of schools among others.