MASSOB rejects cattle ranches in military barracks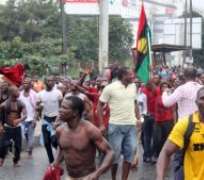 The Movement for the Actualisation of Sovereign State of Biafra (MASSOB) has rejected the proposed cattle ranches in military barracks, particularly those in South East.
Speaking against the backdrop of the planned establishment of cattle ranches in military barracks, especially in states that, hitherto, opposed the earlier proposed cattle colonies, MASSOB's National Director of Information, Sunny Okereafor, said inasmuch as the pro Biafra group is not against the establishment of such ranches in any other part of the country, it is against its establishment in any part of Southeastern region
Okereafor said it is not the norm, the world over, for governments to establish ranches for private individuals in military barracks, stressing that the Federal Government is planning that in Nigeria to aid the Fulani accomplish the conquest of the South East they could not conquer in 1804 through Jihad.
The MASSOB spokesman said initially the federal government came with a Grazing Bill, which became dead on arrival because the people were opposed to it; again, "they came with cattle colony, and now cattle ranches in military barracks all in a bid to placate a small segment of the country at the detriment of others." He said this must be resisted.
Continuing, Okereafor said MASSOB is still committed to its non-violent approach to the struggle, but warned that they would not, however, fold their hands when the people are pushed to the wall.