Herdsmen & Farmers Clashes: Barr. Mohammed Kabir Usman Makes Case For Technology Based Solutions.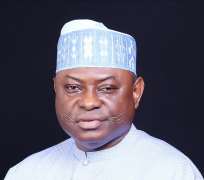 Immediate past National Legal Adviser of the Peoples' Democratic Party, Mohammed, Kabir Usman has advocated a technology based solution to the recurrent incidences of violent conflicts between herdsmen and their host communities.
Barr. Mohammed Kabir Usman is immensely saddened by the incidences of violence in parts of Benue Stateand the ones before it which left several natives either maimed or dead.
He believes that while herdsmen whereconfirmedto be citizens of Nigeria should not be excluded from deriving benefits from the resources of a state, they have a responsibility to absolutely and without reservations, observe, respect and comply with the laws of their hosts.
Barr. Mohammed Kabir Usman recognizes the existence of a thriving livestock sub-sector in the agriculture sector ofthe economies of Australia, The Netherlands, Germany, America, Botswana and Uganda. He urges the government of Benue State to partner with the Federal Ministry of Agriculture and relevant authorities like the Food and Agriculture Organization; an affiliate agency of the UN towards identifying how new technology can be deployed towards ensuring that peace and stability is achieved in the troubled areas.
He acknowledged that since similar clashescaused the government of the United Statesto introduce interventions like compulsory enrolment of herders and cattle into a government maintained database, compulsory cattle tracking, establishment of cattle ranches in designated states, routine immunization of herds, provision of paid veterinary services alongside other initiatives, the Federal Government of Nigeria should take a clue from the aforementioned countries as means of ensuring restoration of peace in affected areas.
In the interim, Barr. Mohammed Kabir Usman opines that stronger security infrastructure must be deployed to prevent further breakdown of order and also guaranty adequate protection of lives and properties of residents and natives of flashpoints.
Ezeani, Chukwunonso Elvis.
Media Assistant to Barr. Mohammed Kabir Usman.
© January 2018, Abuja.