Professor Isa Odidi Appointed Professor at Shenyang PharmaceuticalUniversity, China.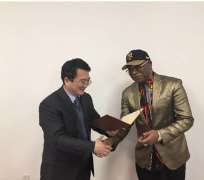 Professor Isa Odidi Appointed Professor at Shenyang Pharmaceutical University, China.
Prof. Isa Seen Receiving Letter of Appointment from Shenyang Pharmaceutical University Representative
Shenyang Pharmaceutical University (SPU) has traditions that have brought it to prominence as one of two comprehensive pharmaceutical universities in China. It started at Ruijin in the Jiangxi in 1931 and moved to its present location on the banks of the Hun River in Shenyang, Liaoning in 1949. The University is in Shenyang, Liaoning, China. It is the first research institute in pharmaceutical sciences in China.
Letter of Appointment made to Prof. Isa Odidi Displayed
The University has developed into a multidisciplinary, multilevel and multiform institute of higher learning, covering wide and diverse majors in pharmaceutical study. It consists of the schools of Pharmacy, Pharmaceutical engineering, Traditional Chinese Medicines, Business Administration, Basic Courses, and Adult Education. SPU has been authorized to confer master's and doctor's degrees and to enroll students from Hong Kong, Macau, Taiwan, as well as other countries. There scientific exploration is at the forefront of research in China.
Prof Isa Odidi Showing Letter of Shenyang Pharmaceutical University Appointment
In recent years, mutually beneficial collaborative efforts have come to fruition between the university's academics and all levels of government and private sector: city, province, and state, including the recent appointment of Prof. Isa Odidi:
The co-founded Intellipharmaceutics Inc., the predecessor of publicly-traded Intellipharmaceutics International Inc and chair as Professor of Pharmaceutical Technology at the Toronto Institute of Pharmaceutical Technology in Canada and is an Adjunct Professor at the Institute for Molecular Medicine in California and an awardee Honorary Doctor of Science degree (Honoris causa) from the University of Benin, Nigeria.