In search of a Nigerian President for 2019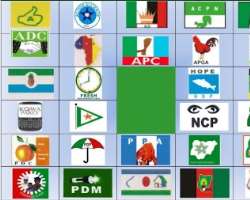 Nigerians, in population of nearly two hundred millions, are preparing for another political evolution to have a President to take care of their affairs for four years after the February 16, 2019 Presidential polls as declared by the Independent National Electoral Commission (INEC). The nation's population, officially, may be less. But it is an undisputable truth that Nigeria is growing fast in population and must have tremendously increased from 2015 to 2019 with an estimated annual growth rate of 3.5 percent.
The 2015 general elections were eye openers. The 2019 elections will definitely open more eyes. But it must record greater success with the best of Nigerians emerging for all elective positions, especially the President for our dear and only county, Nigeria. INEC owes this to Nigerians whose obligation is to participate actively in the electioneering processes to ensure that the constitution is fully protected and the civic rights of the citizenry are fully enthroned. Every Nigerian must see himself or herself as the key to the success of the 2019 general elections and must display that in a mature and peaceful manner.
Nigerians must shine their eyes and broaden their minds in making the best choice for the nation, not for mere parochial interests. Although they are limited to make this all-important choice through 68 registered political parties, it will be of great interest to the nation if INEC mandates every of the parties to present its own presidential candidate instead of selling out to the big parties for immediate or expected interests. So, we should expect 68 presidential candidates, in addition to independent candidates if allowed by the electoral laws.
It must be made imperative on all parties to field in candidates for all elective positions or they are made to withdraw completely from all the political processes after the deadlines issued by INEC. INEC approved the registration of 22 new parties on December 14, 2017 and has presented certificates of operation to them. This included the Socialist Party of Nigeria (SPN) in compliance with a judgment of the Federal High Court in Abuja which in November 2017 ordered INEC to immediately register and recognize SPN as a new political party. There were about 103 pending applications for political party registration.
According to the director-general of National Population Commission (NPC), Ghali Bello, Nigeria's population was currently 182 millions with more than half of the people under 30 years. The last population census in 2006 was 140 million. If the statement of the NPC is anything to go by, then Nigeria should have over 100 million citizens above 18 years who are potential voters. Unfortunately, with such huge number of citizens, Nigeria cannot boast of 100 million registered voters.
The Chairman of INEC, Prof. Mahmood Yakubu, while receiving the Ambassador of Norway, Mr. Kjemprud, said Nigeria's voting population stands at 71,040,000. A statement issued by his Chief Press Secretary, Rotimi Oyekanmi, quoted the INEC boss as saying that there were 70 million registered voters currently on the voter register, with additional 1,040,000 so far registered since the commencement of the CVR exercise on April 27, 2017.
With all these glaring facts and figures, it means that the choice of a president for Nigeria in 2019 will not be a joke. That will, howbeit, depend on the possibility of 'a vacancy' in Aso Rock Villa. But will there be any? From indications, a lot of Nigerian politicians and technocrats have either started showing interest in the national race or are being lobbied to join the race. On the other hand, some political jobbers and jokers are perfecting their plans to act as 'spoilers' in the national event. Those in the category of 'any government in power' (AGP) are not left behind.
In the list of the aspirants cutting across Nigeria are President Muhammadu Buhari, Vice President, Prof. Yemi Osinbajo, former president, Dr. Goodluck Ebele Jonathan, former Lagos state governor and leader of the All Progressives Party (APC), Asiwaju Bola Ahmad Tinubu, former vice president Atiku Abubakar, Senate President Abubakar Bukola Saraki, former governors of Kano state, Rabiu Musa Kwankwaso and Ibrahim Shekarau, immediate past governor of Jigawa state, Sule Lamido, immediate past Speaker of House of Representatives and current governor of Sokoto state, Rt. Hon. Aminu Wiziri Tambuwal, former governor of Kaduna state and immediate past chairman of the Peoples Democratic Party (PDP), Ahmad Makarfi and former minister of the Federal Capital Territory (FCT) and current governor of Kaduna state, Mallam Nasir El-Rufai.
Other visible aspirants are former governor of Borno and former PDP chairman, Ali Modu Sheriff, Ekiti state governor and chairman of PDP Governors' Forum, Ayo Fayose, governor of Imo state and chairman of APC Governors' Forum, Rochas Owelle Okorocha, former governor of Abia state and founder of the Progressive Peoples Alliance (PPA) which is a political party that won gubernatorial elections in 2003 and 2007 in Abia State, Orji Uzor Kalu, former governor of Lagos state and current super minister of Power, Works and Housing, Babatunde Fasola, former Senate President and chairman of committee on Electoral Reforms, Senator Ken Nnamani, governor of Gombe state, Ibrahim Dankwambo, former governor of Edo state, Adams Oshiomhole, former governor of Anambra state, Peter Obi, immediate past Senate President, Senator David Mark, former governor of Cross River state, Donald Duke, current Lagos state governor, Akinwumni Ambode, Major Hamza Mustapha, richest African man and business tycoon, Aliko Dangote and business and oil magnate Tony Elumelu, amongst others.
Of all in the list, only President Buhari and few are sure of the party through which they will vie. A lot are waiting for opportunities. Some are perpetual defectors who will, out of despondency, continue to jump from one party to the other until the deadline given by INEC for submission of presidential candidates. This list shows that major faces in the 2015 presidential polls will be missing as only 11 parties participated in it. The PDP had the then President Goodluck Jonathan and his vice, Namadi Sambo, while the APC had President Muhammadu Buhari and his running mate Prof. Yemi Osinbajo. Oluremi Sonaiya and Saidu Bobboi were for Kowa Party, Ambrose Albert and Haruna Shaba for Hope Democratic Party, Ganiyu Galadima and Balarabe Ahmed for Allied Congress Party of Nigeria (ACPN), Rafiu Salau and Clinton Cliff Akuchie for Alliance for Democracy (AD) and Godson Okoye and Haruna Adamu for United Democratic Party (UDP).
Others were Nani Ibrahim Ahmad and Obianuju Murphy-Uzohue for African Democratic Congress (ADC), Martin Onovo and Ibrahim Mohammed for National Conscience Party (NCP), Tunde Anifowoshe-Kelani and Paul Ishaka Ofomile for Action Alliance and Chekwas Okorie and Bello Umar for United Progressive Party (UPP). The Labour Party (LP) and the All Progressives Grand Alliance (APGA) adopted the PDP candidate, Goodluck Jonathan as their candidate as well. And although some of the parties have been deregistered, they must be commended for fighting to the end and displaying political maturity.
As for those who belong to APC, their hopes are hanging because only the decision of the president can clear the ways on what they should do. If they decide to go into primary, no one seems to have the credibility to overcome President Buhari as contended by his supporters. As for the aspirants under the opposition party, PDP, they are realizing the greatest mistake they made in 2015 as well as the deceit and distrust which they created in Nigerian governance. The party is still suffering from the shock of its defeat in 2015 cum the crisis that have thwarted its earliest effort to recover. It can, therefore, not be guaranteed or overruled that it can make great impact in the 2019 polls even if it fields in a northern candidate.
Dele Momodu in his column in Thisday Newspaper titled: "The Shape of The 2019 Presidential Election", was quick to acknowledge that the first of the serious aspirants, naturally, was President Muhammadu Buhari, who is allowed by the Nigerian constitution to seek a second term, though the right does not grant automatic return to power as the example of former President Goodluck Jonathan remains a sobering indicator in Nigerian politics of today. Many socio-political organizations and states of the federation have already endorsed Buhari. February 16, 2019 is far for the common citizens but it is just by the corner for the politicians now having sleepless nights (mis)calculating ahead of INEC schedule.
In my next write-up, I will invite my dear compatriots to look out for 12 qualities in choosing the next President of Nigeria in 2019. It will be God's making, not merely human. Nigerians are really divided in this political era, but we must continuously remind ourselves of the powerful saying that "Man proposes, God disposes." Hopefully, there must be a winner and with faith and patriotism, he will be the one chosen by Nigerians themselves, though no one definitely can assure of life till 2019. May God keep us alive to reap the fruits of our labour beyond 2019. Ameen.
Muhammad Ajah is an advocate of humanity, peace and good governance in Abuja. E-mail [email protected]
Disclaimer:

"The views/contents expressed in this article are the sole responsibility of the author(s) and do not necessarily reflect those of The Nigerian Voice. The Nigerian Voice will not be responsible or liable for any inaccurate or incorrect statements contained in this article."