Photos: Married man gets stuck inside the body of woman during sex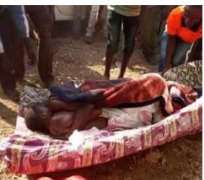 A man, whose identity was not revealed, got stuck inside the body of a woman during sex.
A married man had his man-hood stuck inside his lover at Triple Zero guest house in Namatala, Mbale, Uganda on Monday morning.
According to eyewitness, Gosher Mbale, the adulterous couple were having s*x when they became stuck together.
Giving an update, he said the couple have been separated by a traditional healer. The man has vowed to drive his wife away for allegedly placing a curse on him.
"They have been finally separated by a traditional healer. The man's wife was brought around to make the separation Mukolo so effective. The man has vowed to chase away his wife after this painful experience. The man(Sulah) was cheating on his wife with a lady from Soroti 'mbu' but he has a home at Doko Nsambya. Near BCU factory.

Let's wait for part 3"