Oluwo gets Made in Nigeria Car to Mark 2nd Anniversary of coronation (Photos)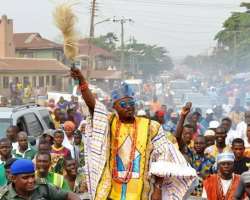 A prominent traditional ruler in Osun State, the Oluwo of Iwoland, Oba Abdulrosheed Akanbi has bought a G-Wagon-G80 made in Nigeria vehicle to mark his 2nd Anniversary of his installation and coronation as the Oluwo.
The first class monarch confirmed to The Nigerian Voice that he procured the car for his 2nd anniversary to make a statement as a promoter of made in Nigeria product with intent to encourage other Nigerian to patronise locally made products.
With this development, Oluwo becomes the first king, not only in Yorubaland but the whole of Nigeria to use the new model of the made in Nigeria vehicle
It could be recalled that Oluwo was the only monarch invited at the commissioning of the new model of the made in Nigerian vehicles last year and in demonstrating his support for made in Nigeria products, the traditional ruler bought a G80 model car.
In a chat with The Nigerian Voice, Oba Akanbi said "Every Nigerian that can afford a vehicle should get his vehicle from Innoson vehicle manufacturing as a sign of patriotism because Innoson is not just Nigeria's pride but a pride of the Black race."
"It will be a shame for any Nigerian to be paying exorbitant prices and customs duty for foreign cars made by the so called western world and you neglect your own blood's innovation where you won't need to pay customs duty", the monarch said.