Emblem Launching: Nigerian Legion Realises N5.29 Million in Borno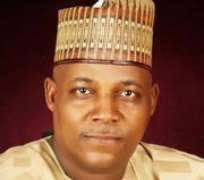 The Nigerian Legion Borno state chapter has realised over N5, 290,0000.00 at its 2018 Nigerian Legion Emblem Launching held in Maiduguri at the Military Cemetery Maimalari Cantonment during the Wreath laying ceremony Monday.
The Head of Service Borno sate, Architect Yerima Kidah made the highest donation on behalf of the Borno state civil servants of N1, 440,000, the State Commissioner of Justice ad State Attorney General, Barrister Kaka Shehu Lawan made a donation of N1 million on behalf of the State Commissioners and Special Advisers and Senior Special Assistants to the Governor made donation of N 1 million.
Alhaji Bakari Ali Kotoko Chairman MMC and Chairman ALGON Borno state on behalf of the 27 LGCs of Borno state made a donation of N1,350,000, State Chief Judge Borno State, Justice Kashim Zanna made a donation of N300,000 on behalf of the State Judiciary and the Shehu of Borno, HRH, Alhaji Abubakar Garbai Ibn Umar El Kanemi made a donation of N200,000 on behalf of the Emirate Council among others.
The State Chairman, Nigerian Legion, Borno state, Assistant Commandant General Williams Adams Mamza said the ceremony was to give opportunity to members of the society to pray for those soldiers that sacrificed their lives for the country and fought for the sovereignty, unity and integrity of the country in the past and loss their lives.
He said it will also avail opportunity to the people to make donations to support and assist the fallen heroes families and relations that they left behind.
ACG Mamza added that the sacrifices and efforts of the fallen heroes and retired solders who are alive can not be forgotten and needed to be supported and appreciated by all Nigerians.
Before laying of the Wreath, the Director Islamic Affairs 7 Division Nigerian Army Maimalari Cantonment Maiduguri, Colonel Usman Musa, the Deputy Director Chaplain Services Protestants, Major Usman and the Deputy Director Chaplain Services Roman Catholic, Major Reverend T.U. Ogbu prayed for the fallen heroes.
The Wreath was laid by Governor Kashim Shettima, Deputy Governor Mamman Usman Durkwa, Speaker BOSHA, Abdulrahman Lawan, State Chief Judge, Justice Kashim Zanna, Theater Commander Operation Lafiya Dole, Major General Rogers Nicholas, GOC 7 Division NA Maiduguri, Major General Ibrahim Yusuf Manu, Nigerian Legion State Chairman Borno, ACG Williams Adams Mamza, Red Cross Society State Chairman Borno Dr. Bulama Mali Gubio, NAF Task Force Commandant, GOC 8 Task Force Monguno, etc.