Sabit Ariyo Olagoke:: Profile Of A Religious Leader Worthy Of Emulation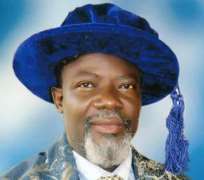 In the year 10 A.H. (631 CE), Prophet Muhammad (pbuh) received a delegation of sixty Christians from Najran in Medinah. The visit of the Christians of Narjan to the city of Medina in 631CE is perhaps the most important noted interfaith interaction between Christians and Muslims.
History has it that at that time, Prophet Muhammad (pbuh) sent out letters to different communities and their leaders. In the case of the Narjans, who lived near Yemen, about 450 miles south of Medina, the Prophet sent Khaled ibn al-Walid and Ali ibn Abi Talib to deliver the letter.
When the Christians of Najran arrived Medina, Prophet Muhammad (pbuh) allowed them to pray in Nabawi mosque where the Muslims also prayed. Though the invitation was not only the first example of Christian-Muslim dialogue, but it was the first time that Christians prayed in a mosque. At the end, Prophet Muhammad (pbuh) and the Najrans were not able to reach common ground on all theological issues; he nonetheless gave them a place to stay near his home, and even ordered Muslims to pitch their tent.
And upon leaving Medina, the Najran Christian leaders told Prophet Muhammad (pbuh): "O, Abu al-Qasim, we decided to leave you as you are and you leave us as we are. But send with us a man who can adjudicate things on our properties, because we accept you". The Christians left Medina with a written guarantee that Prophet Muhammad would protect their lives, property, and freedom to practice Christianity.
The visit of Najran Christians to Medina is one of the first examples of religious pluralism in Islam. And just yesterday, January 13, 2018, another chapter of religious pluralism was opened when the Founder, Spiritual Head and Grand Imam of Shafaudeen in Islam Worldwide,
Professor Sabit Ariyo Olagoke in company of Grand Amirah and other eminent members of Shafaudeen in Islam attended the 10th year Diocesan Anniversary and Award Conferment of Methodist Church of Nigeria, Elekuro, Ibadan.
Apart from attending the Church service, Professor Olagoke was also conferred with Patriarch of Faith (POF) by the Methodist Church Nigeria, Diocese of Elekuro; in recognition of his religious pluralism.With this action, Professor Sabit Ariyo Olagoke has shown the attribute of a religious leader worthy of emulation by other religious leaders in Nigeria and the world at large.
In a nation where many religious leaders are daily sowing embers of religious disunity and intolerance; Professor Olagoke is using his understanding of the Holy Scriptures to create a perfect world where individuals of different faiths can live, respect and tolerate one another. He is no doubt an embodiment of all the good attributes a man can ever dream of. This is a man who has used and is still using his knowledge, time and wealth to encourage, nurture, equip and invest in the lives of many individuals.
Despite the fact that he is the leader of one of the most respected Islamic organisations in world; Olagoke is always at the forefront of using the Holy Scriptures to correct societal ills and also advocate for peaceful co-existence among individuals of different faiths.
Professor Olagoke is one of those who believe that: 'the dignity and freedom bestowed by Almighty Allah on human beings must be respected'. He believes the relationship among believers must be animated by reciprocal compassion and respect. As a pluralist religious leader worthy of emulation, Professor Olagoke believes that the dialogue between Christians and Muslims must continue as a way to promote mutual understanding and to promote the common good of all humanity, especially in the area of establishing peace, justice, equity and solidarity.
The story of the Najran Christian delegation that visited Medina then and the visit and acceptance of award by Shafaudeen founder from Methodist Church, Elekuro Ibadan is synonymous to religious pluralism which Prophet Muhammad(pbuh) established in the year 10 A.H. (631 CE). This reminds us of four important lessons- energetic engagement with diversity; understanding across religious traditions; encounter of commitments; and interfaith dialogue. These are important factors we must all strive to achieve in order to have peace in the world.
Other religious leaders in the country should emulate the Founder of Shafaudeen who not only attended a Church service but also removed his cap as a man of God who has a deep understanding of religious traditions.