Obasanjo says Goodluck Jonathan can contest Nigeria's presidency in 2011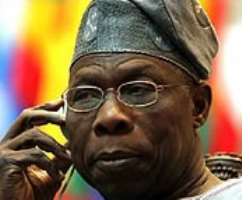 Olusegun Obasanjo, former Nigerian President
Former Nigerian President Olusegun Obasanjo has broken his silence over the issue of whether President Goodluck Jonathan should contest the presidential election in 2011.
According to him, there is no reason why Jonathan should not stay in power beyond next year.
The former President made his views known in company with Senator Lekan Mustapha and former governor of Oyo State, Chief Omololu Olunloyo at an event held in honour of the Minister of Commerce and Industry, Hon. Jubril Martins Kuye in Ijebu, Ogun State, at the weekend.
Mustapha was the one that first responded to the question on whether Jonathan should throw his hat in the ring.
He was then backed by Obasanjo who however, refrained from making a direct call on Jonathan to contest."I have never deceived you before. It has always been said that whatever we do in Ogun State is where Nigeria is going. Our Senator has talked about power shift in our country. If a Senator has spoken, who am I, a farmer, to oppose a Senator (Mustapha)? So, if you have listened to him, you already know that's where I belong. I think you understand what I'm saying? In PDP, we are one family, we should be one, there should not be factions," said the former President.
Mustapha, who spoke shortly before Obasanjo stressed that he was yet to find any reason why Jonathan "should not spend beyond 2011 as President."
He continued: "Someone has said it and I know that when that person talks, that is the way it should be. I'm not saying the person is Baba Obasanjo but when he says it, that is what happens. Personally, I don't see why Jonathan should not continue in office beyond 2011. I believe that is the way it should be."
Obasanjo stressed that the PDP in Ogun State must come together if the party wants to remain in power in the state.
He urged all PDP factions in the state to drop their differences. He asked them to reconcile for the good of the party.Olunloyo stated that zoning is not good for the country. According to him, "modern political arrangement has gone beyond the issue of zoning. What is good for Nigeria is what our party will do. So, Jonathan is free to contest the election because he is not using his term in office."
The host, Martins-Kuye who was delighted prayed that Obasanjo would continue to be alive to lead the party.
Others who attended the event include the Speaker of Ogun State House of Assembly Mr. Tunji Egbetokun, his Deputy, Pastor Remmy Hazzan; member PDP Board of Trustees Chief Tunde Oshunrinde; Chief Bisi Rodipe; members of the House of Representatives Mr. David Salako and Mr. Rasak among others.
Also, Governor Isa Yuguda of Bauchi State at the weekend said Jonathan, like any other Nigerian, is free to contest the 2011 presidential elections because that right has been guaranteed by the constitution.
He said any person in the country today daring the president is daring God because it is God who put him on the seat.
He said the constitution is very clear on the matter, and as law abiding citizens, we should not condone acts that will lead to the disenfranchising of any Nigerian in 2011.
His position seems to contradict calls by leading political figures in the North that power must remain in the region until the year 2015.
Yuguda said the agreed zoning formula adopted by the ruling Peoples Democratic Party (PDP) should not be a reason to jettison merit in the quest to find the right candidate to rule the country next year.
Addressing journalists in Abuja, Yuguda also accused the PDP Reform Group of trying to cause distraction in the polity, saying as far as he is concerned, "there is nothing wrong with the status quo ante in the party.
"If the so-called reformists are serious about reforms, they should go and contest elections first before they could talk of reforms. Let them go and taste their popularity at the ballot box. When they are elected represantatives of the people, they they can talk of reforms.
We are presently at the learning curve. The President should be allowed to work. He should not be bugged down by all these problems.
"If they are serious about reforms, they should go and taste their popularity at the polls. Let them be elected. There are many in the reform group who may never have voted in their lives. They never faced elections and yet they are telling us about reforms.
"Let us fine tune what we have and let us try to see where we have gone wrong and work to correct it. I want us to fix things and work as a family, we must be preparing ourselves towards 2011. You cannot talk of reforms when you are approaching elections.
It is ironic because 70 percent of those in the reform group have never contested for election, they never know what it takes to win election," he added. Yuguda said the reform group should tarry with their demands until PDP wins all its elections in 2011.