DSS explains why El-Zakzaky was allowed to address the press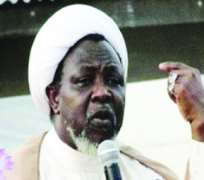 The Department of State Service, DSS, on Saturday said it allowed the leader of the Islamic Movement in Nigeria, IMN, (Shiite), Ibrahim El-Zakzaky, to address the press in order to give the lie to the news making the round that he was dead.
DSS spokesman, Tony Opuiyo, made this known shortly after El-Zakzaky in public declared that he was alive and that he was getting better.
It was the first time the Shiite leader was appearing in public since he was arrested about two years ago.
In his brief address, El-Zakzaky who wore a neck brace, said: "I am getting better, thanks to all for your prayers."
He disclosed that he had been allowed to see his personal doctor.
There were reports during the week that the Shiite leader was dead.
The DSS had since debunked the report.
A number of protests had been carried out on several occasions by members of the Shiite group, especially, in Abuja.
The members were protesting the continued detention of the leader despite the court order that he be released.
Recall that the Shiite leader was arrested in December 2015 during a clash between his group and the Nigerian Army.
The Nigerian Army had claimed that the group was out to assassinate the Chief of Army Staff, Tukur Buratai, when they barricaded the road to prevent his movement.
No fewer than 300 people were said to have been killed in the clash.