Could've 'easily' died like Whitney Houston: Mary J. Blige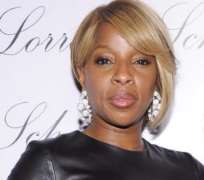 In a much-deserved ritual of recognition,  Mary J. Blige  brought in her 47th birthday Thursday (Jan.11) with her very own star on the Hollywood Walk of Fame. But Blige's come-up has not been easy.
The nine-time Grammy award-winning singer, songwriter, and actress revealed on the Hollywood Reporter podcast "Awards Chatter" that at earlier points in her career, she could've "easily" died the way that Whitney Houston tragically did in 2012, when she overdosed.
"People just let you do what you want to do, because they want to keep getting paid," Blige explained. "It's easier to deal with you if you're drunk and you don't know what's going on and you just want to party….They're yes-ma'am-ing you to death. And if you don't have something in you that recognizes this or that wants to survive this, you're not gonna survive."
Blige says her tenth album My Life II… The Journey Continues (Act 1), which came out in 2011, reflects on her life at the time of her worst depression and addiction, and was "another cry for help."
The full podcast spans over an hour and a half with Blige covering everything from her influence on young black women now, to her formative years growing up in the projects in Yonkers, which included sexual harassment and abuse.
Blige's recent role in Netflix's Mudbound scored her both SAG Award and Golden Globe nominations this year, and is one of her countless roles as an actress over the years. Her 25-year career also includes upwards of 13 albums spanning across R&B, hip-hop, and gospel.
As Blige continues to collect more accolades, her history makes it all that more impressive. Listen the full podcast  here.