It was insensitive  and a bad outing Governor Lalong; you goof, apologize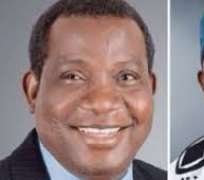 It was Plato who said 'Wise men speak because they have something to say; Fools because they have to say something"
By no means I'm calling Governor Lalong a fool, but drawing attention to the fact that words are powerful, how you use words determines your capacity as a leader. The art of communication is an important measure of leadership and its potentials. It is for this reason that leadership is supported by aides skilled in the arts of language. "Words are singularly the most powerful force available to humanity. We can choose to use this force constructively with words of encouragement, or destructively using words of despair. Words have energy and power with the ability to help, to heal, to hinder, to hurt, to harm, to humiliate and to humble" (Yehuda Berg). It was with utter disbelief when I read through the media comments attributed to Mr Lalong after his meeting with president Mohammadu Buhari (PMB). Punch wrote "The Plateau State Governor, Simon Lalong, on Thursday 11th January 2018 said he warned his Benue State counterpart, Samuel Ortom, against implementing the state anti-grazing law recently passed into law". My first impression was no the Governor must have been misquoted but alas it wasn't so.
Until I watched the full interview that the Governor gave to State House reporters, I didn't believe that Simon Lalong could be that insensitive to the plight of Benue people whom Plateau share lots in common as far as project Nigeria is concerned. More so on the day that Benue is conducting mass burial of its people. My personal conclusions after watching the interview is that Governor Lalong had a bad outing, an embarrassing goof, an example of a bad communication by a leader. Lalong appeared to have squarely put the blame of the barbaric mayhem committed by Fulani herdsmen on his counterpart in Benue, Governor Ortom. No, it was Fulani Herdsmen that did the killing and there is no justification for this. He should offer an unreserved apology to Mr Ortom, the Benue people and the good people of Plateau for betraying their relationships which has great historical antecedents.
It was hard to take in when I watched the video of Mr Lalong's interview - the body language, gesture, intonation and the words used portrayed aggressiveness and height of insensitivity. Mr Lalong's outburst leaves much to be desired. In communicating, there is need to be careful. Mr Ortom explained severally that his people asked for the law on prohibition of open grazing, so he obliged them. On the contrary, the people of Plateau have asked for it but Mr Lalong has refused to consider it - I'm sure Mr Governor, you were elected to serve plateau interest and not to be subservient to Abuja. Your policy of appeasement of Abuja powers seems to becloud your judgement. By blaming Mr Ortom who was creative in responding to the yearnings of Benue people who elected him into office by enacting laws to protect them, is to celebrate mediocrity against excellence.
On a day that the good people of Benue State are mourning, the Governor of Plateau state, Simon Lalong appears to spite them. We should have been there with Benue at their time of need - that is what friends do. Instead of an apology for miscommunication, Mr Lalong issued a statement through his Director of Press Emmanuel Nanle where he betrayed arrogant posturing typical of Nigerian brand of leadership. In the said statement in which Lalong tried to explain that he was misquoted, he berated imaginary opponents "......who have taken to the social media to make negative statements and draw political capital out of the unfortunate situation in Benue, while the pains in the grieving hearts of the victims where still fresh" No Mr Lalong, it was your statement that showed height of insensitivity to Benue people and not those who took exceptions to your comment. In your euphoria probably because you had the opportunity to meet with PMB, you misjudged and spoke out of tune - a simple apology not rambling would suffice.
Just before you become amnesiac and start running around as if your State is safe, between September/October 2017, the Irigwe People in Bassa Local Government Area of Plateau State lost over 60 lives ( including women and children) from gruesome attack by Fulani Herdsmen. It is sad to say that as the chief security officer, you have failed to ensure that those responsible were caught and brought to book, even though you have sworn to protect lives and properties. There have been further attacks in Barkin Ladi etc by these same Fulani marauders under your watch. Was any of these attacks on the plateau as a result of any restrictions in open grazing activities? Mr Governor, it is time you do a deep introspection, consider how best to approach your role in the next two years and listen to the yearnings of those who elected you. Politics of appeasing Abuja at the expense of your people will only lead to social injustice, failure and breeds dissatisfaction in the land.
There is a clear difference, Ortom has sided with his people which is commendable of a politician. What about you Mr Lalong. Our thoughts and prayers are with Benue citizens at this time of grief!
Disclaimer:

"The views/contents expressed in this article are the sole responsibility of

Bernard Doro

and do not necessarily reflect those of The Nigerian Voice. The Nigerian Voice will not be responsible or liable for any inaccurate or incorrect statements contained in this article."