How UNIOSUN lecturer died due to strike by non teaching staff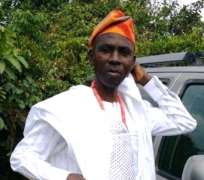 The ongoing strike by the nonacademic staff of Osun State University has claimed its first casualty as one of the lecturers in the institution, Dr. Moses Adebowale Ogunbiyi who was sick, died on the campus because there was no ambulance to take him to the hospital.
Ogunbiyi who was the Head of the Department (HoD) of Civil Engineering Department, died yesterday after casting his vote in the election of the Academic Staff Union of the University which was held on the main campus of UNIOSUN in Osogbo, capital of Osun State.
The late lecturer was the immediate past Acting Director of Physical Planning in the university and he was a star witness in the ongoing probe of the Vice Chancellor of the the university, Professor Labode Popoola on the case of embezzlement and mismanagement of the fund of the university leveled against him.
The Nigerian Voice gathered that the late lecturer was expected to submit a report of certain findings concerning the probe of the VC and that his death might thwart the process of the investigation.
The death of the lecturer according to findings by The Nigerian Voice has caused confusion on the campus as the students and staff of the university grieved and mourned him.
In a chat with The Nigerian Voice, one of the lecturers in the university said "our colleagues from the Department of Heath Science and the College of Medicine made frantic efforts to rescue Dr Moses Ogunbiyi but they could not."
He continued "It unfortunate that this happened at a time that the nonacademic staff are on strike. You can imagine, there was no ambulance to take Dr Ogunbiyi to hospital in the town since the health center on campus is not functioning due to the strike. There was no oxygen when he need extra air. It was very unfortunate."