Herdsmen hit again in Benue, village head, 15 others killed in fresh attack on communities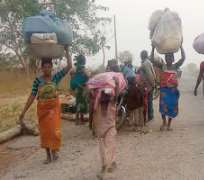 Despite the deployment of security personnel to check renewed attacks in parts of Benue state, a community head and 15 others have been reportedly killed by suspected herdsmen in a two day fresh attack on Tse Akombo, Tse Vii and Tse Agule communities in Logo Logo local government area of the state.
The invaders who also razed the affected communities left many with injuries while so many are still missing and unaccounted for. However, the State Police Command in a statement by its Public Relations Officer, Assistant Superintendent, ASP, Moses Yamu confirmed the death of 10 persons in the fresh attack.
Sunday Vanguard gathered from a resident in the area, that "the communities came under heavy attack by well armed herdsmen who stormed the communities late Friday night till the early hours of Saturday.
"No fewer than 16 persons have been killed in this attack including the village head of Tse village Elder Mlahaga and Terhile Tyozho a prominent farmer in the area. "Another young man from Turan Ward who was displaced by the previous attack among others was also killed while Mr Tyozho's younger brother and many others are still missing as I speak with you.
"At the moment there is mass movement of the people in the affected communities including women and children. The situation is quite pathetic because the entire area is like a war zone.
"So far the corpses of some persons including that of the community head have been retrieved by the fleeing community members. "The fact is that much more must have been killed but we will confirm that in the coming days as more bodies are recovered from the affected communities."
Meanwhile, the Police in its statement indicated that among those killed in the attack were 70 year old Kwaghve Baki and seven year old Suushater Kwaghve. "As we speak a Mobile Police detachment led by the Area Commander in Katsina-Ala local government have been deployed to Logo to forestall further attacks."
vanguard