ALADJA/OGBE-IJOH: Okowa, Zanna Regret Inability To Restore Peace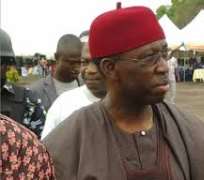 Delta State governor, Ifeanyi Okowa, has lamented that the much effort the state government has put into the Aladja/Ogbe-Ijoh crises was yet to yield the needed result.
In his words: "the only place that has been a major problem for us is the issue between the Aladja/Ogbe-Ijoh and Asabe for which we have gone through the processes and a white paper is already before the EXCO and by God's grace at out next EXCO we will be picking the White Paper".
Okowa said both communities rather accused the Deputy Governor, Kingsley Otuaro, from Warri South West local government council and the Secretary to the State Government (SSG), Festus Ovie Agas, from Ughelli North local government area of complicities.
"My SSG and my Deputy has been accused, my SSG is an Urhobo and my Deputy is from Ijaw. So most times even in meetings if I cannot find myself space to attend the meeting, it is difficult for me to ask the SSG or my Deputy Governor to preside".
The governor said this during his quarterly press briefing in government house, Asaba, recently.
He noted that he has received a lot of insults on the Aladja/Ogbe-Ijoh crises, "if you understand the management of human beings and the management of communal clashes, it is not just something that you just rise up and take decisions any how because of the issues of loss of lives and property, I want to be able to get to the root cause and be able to find a solution that is actually going to bring peace to the people".
Okowa who revealed that the crises have been on for more than two decades, said, "We have been very proactive in trying to address the issues and people who go there knows that. We have had several and several meetings, we have had to put up committees to look at the whole thing and the White Paper, yes it is ready now".
He described the White Paper as a court judgment that may not give someone peace in many instances, "we want to be able to create situations where people are still able to live with each other, except if they refuse to live with each other".
Hear him: "It has been a very problematic thing trying to resolve it. At a point in time even trying to create the peace possible, the leadership of both communities has to start reporting twice a week to the military base.
"At a point in time because they were busy shooting themselves, the leadership has to be locked up by the police. Just to let you know what is going on and this is not one sided, it is from both sides. Now the White Paper is ready, we will take on the White Paper at out next EXCO but it is my prayers that the White Paper itself will be able to bring the peace".
He accused the youths from both sides as being unreasonable, "unfortunately from both sides, the youths are not being reasonable. The elders are, the traditional rulers are but unfortunately they appear to have lost a reasonable control over the youths of both communities and that is the challenge that we have".
He however sounded that if the state government would have to do the things it needs to do, "for government to take the actions it have to take, so be it".
Also in his reaction, the outgoing Commissioner of Police, Mr Zanna Ibrahim, has expressed regrets over his inability to bring lasting solutions to some warring communities in the state.
He stated this recently during a press briefing at the state police command, Asaba.
He also lamented his failure to completely arrest the problem of farmers/Fulani Herdsmen challenges which has left about 2, 000 dead, women and girls raped while others are displaced from their fatherlands.
Said he: "During my tenure, I have not being able to establish complete peace in Aladja/Ogbe-Ijoh, it has been a nightmare that I have lived in Delta State with. And a few others, Amai-Eziopo-Umuepu, that problem is still lingering".
According to him, "the farmers/herdsmen clashes even though on the descending side but we are still interfacing with all stakeholders. But I want to assure you that we have made some meaningful and conspicuous progress since my assumption in office", he said.