CAN carpets Buhari over poor response to Benue Killings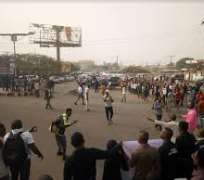 The Christian Association of Nigeria, CAN, has asked President Muhammadu Buhari and his Service Chiefs to  stop paying lips service to the security of lives and property.
Of foremost interest to the body of Christians in Nigeria is to nip This, it said, would put an end to the incessant killings of citizens in many communities across the nation.
CAN said that the killings are totally reprehensible and should stopped by the government
President, CAN, Rev Samson Olasupo Ayokunle, in a statement by his Special Assistant, Media & Communications, Pastor Adebayo Oladeji, condemned the recent bloodbath in several parts of the country, which were carried out by armed Fulani herdsmen and other extremists.
According to the the reverred cleric,  "It is unfortunate that between Christmas and today, scores of innocent Christians have been killed across the nation as if all our security agencies are on holiday. What has become of intelligence gathering? These incessant killings are unacceptable, ungodly, wicked and reprehensible.
"The last two years in Nigeria have recorded unprecedented killings by the criminal Fulani herdsmen and the Boko Haram terrorists with other religious extremists.
"Christian Association of Nigeria calls on President Muhammadu Buhari and his security chiefs to wake up to their responsibilities and stop paying lips service to the security of lives and property. Nowhere is safe and secured in Nigeria despite all the huge amount of money being spent on defence. This is why many are asking questions on our security.
"And for Abubakar Shekau to be claiming responsible for these killings are a dirty slap on the government that claims victory over terrorism. We wonder what the National Security Council is doing in their meetings.
"Our political leaders are not bothered about the primary responsibility of any responsible government which is the security of lives and property instead it is how to remain in power forever.
"We call on all right thinking Nigerians to condemn these dastardly acts. Their studied silence is an endorsement of these criminalities in the land."
While calling on political office holders and Heads of security agencies to remember that they will give account of their stewardship to God sooner or later, the CAN President, identified with the bereaved and prayed to God to give them fortitude to bear their losses.