China schools Donald Trump on presidential manners after offensive tweet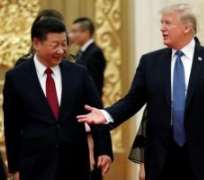 China has rejected President Donald Trump's accusations that it was illegally supplying oil to North Korea, criticizing Friday the Republican leader's evidence, and his demeanor.
Trump launched the allegation Thursday via a tweet in which he claimed China had been " caught RED HANDED " shipping oil into North Korea, a violation of the strict United Nations Security Council sanctions punishing the reclusive, authoritarian state for its unwillingness to abandon an increasingly powerful ballistic and nuclear weapons program. In response, the ruling Chinese Communist Party's official organ published a commentary questioning the U.S. and South Korea's interpretation of the satellite imagery allegedly showing Chinese ships transferring oil to North Korean boats in the Yellow Sea.
"In the photos, North Korean boats appeared to be linking up with Chinese vessels. These 'Chinese vessels' are not oil tankers and are not large-tonnage. U.S. and South Korean media believe these photos prove China violated U.N. Security Council resolutions to transfer oil to North Korea, but even in the reports it is unclear where the vessels come from or whom they belong to,"  The Global Times  wrote Friday.
"Trump's tweet is one of the strongest responses from the U.S. and South Korea. He concluded that China was caught before the truth was clarified and commented in a strong tone. This is not how a U.S. president should behave," it continued.
The claims appeared Wednesday in the South Korean newspaper  The Chosun Ilbo , which cited South Korean government sources saying U.S. reconnaissance captured Chinese ships  secretly providing oil to their North Korean counterparts  about 30 times since October. Just before Trump ran with the claim on his personal Twitter account, Chinese Defense Ministry spokesperson Ren Guoqiang immediately  denied the U.S. and South Korea's version of events , saying, "The situation you have mentioned absolutely does not exist." The Chinese Foreign Ministry also dismissed the charges on Friday, blaming "hyped-up media reports."
"The fact is that since August, there have been no records of this ship docking, entering or leaving a China's port. Whether this ship has ever called at other countries' ports is not ours to tell. Therefore, what these reports claimed is not true," Chinese Foreign Ministry spokeswoman Hua Chunying  told reporters .
"China has been comprehensively and strictly implementing the Security Council resolutions and fulfilling its due international obligations," she added.
st Like the U.S., China is a permanent member of the U.N. Security Council and has voted in favor of sanctions against North Korea, despite being its greatest traditional ally. China too, however, has been deeply critical of the U.S.'s growing military presence and activity in Asia-Pacific, where Washington disputes Beijing's extensive territorial claims at sea and has deployed advanced missile defense systems.
Images dated October 19 depict what the Department of the Treasury says was an "attempt by Korea Kumbyol Trading Company's vessel Rye Song Gang 1 to conduct a ship-to-ship transfer, possibly of oil, in an effort to evade sanctions."  U.S. Department of the Treasury
Since Trump took office in January, he has attempted to adopt a hard-line stance against his North Korean rival, supreme leader Kim Jong Un, who has argued his nuclear weapons were necessary to defend against  a potential U.S. invasion . Despite Trump intensifying U.S. military drills and economic sanctions against Kim's government, the young ruler has managed this year to conduct his country's first intercontinental ballistic missiles tests as well as a sixth, by far more powerful, nuclear weapons test.
Both Trump and Kim  have earned international criticism for continuously  threatening and insulting each other  as the crisis escalated on the Korean Peninsula. China and Russia, which shared China's opposition to  expanding U.S. military influence in the region , have appealed for calm and urged Trump especially to rescind his administration's warnings that military force could be used to try to disarm Kim's arsenal—something North Korea has promised would be met with nuclear destruction.
This article was first written by Newsweek