The Ministry of Moral Panic and other Asian Literatures that Condemn Selfish-Politics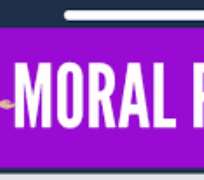 The 2017 General election in Kenya were eventful, the season of campaign was pregnant of lessons; both negative and positive lessons for students of democracy as a culture of politics. Lessons range from democracy as a version of political governance cannot survive without men of character, that electoral democracy in the hands of selfish politicians can be more monstrous than even a dictatorship, it was also a lesson that in order to achieve professional excellence one needs Godly courage-this lesson came out clearly from the eventuality of Chief Justice Maraga making ruling in respect of the petitions. But above all was the lesson in respect of motif that domineered the arena of politics; This was the struggle to preserve the Uthamaki, a central Kenyan word for relentless struggle to conserve or retain the office of president and its powers in or among a few families, the families that are connected by blood and marriage. It was so a disconcerting political effort of the time seen in the manner of political speeches of those that contented for top most political positions. This motif is not now new in the world of literature , it is well presented in Ministry of Moral Panic by Amanda Lee Koe as well in several other literary works from the, oriental literary space otherwise kown as the Asian world.
In the Ministry of Moral PanicAmanda Lee Koe has crazy vocabulary, with words like hirsute , ataraxia, supine, pellucid, apotheosis, accoutrements, not to scare away the readers with who cannot understand difficult English, but to show the mentality of those that are out for selfish politics, they always want to make politics so complicated and hence a reserve for a few with self-claimed unique capacities. The writer pinches her readers with a sharp pang of melancholy as she shows the desperate state of those that are victims of selfish politics. Those that are victims of selfish politics are almost defenseless down to a social station that they only have love, respect, and familiarity to survive the blows and tyranny of money and other craft of those that are out to perpetrate the conservation of their selfish power. The book being a collection of short stories has tactfully displayed this picture in its different stories like : Flamingo Valley; King of Caldecott Hill; and Alice, You Must Be the Fulcrum of Your Own Universe.
Amanda Lee Koe is from Singapore, she wrote The Ministry of Moral Panic four years , she is below the age of thirty five years, but she has already used her gift of intellectual audacity and plenty of moral courage to pique at the behavior political immorality displayed by sons, daughters and other t Family members of the late Lee Kwan Yew the first Prime minister of Singapore , they shamelessly believe that political leadership of the state of Singapore is to be reserved among the blood descendants of Lee Kwan Yew. By comparison, this is what the Uthamakipolitical socialization in Central Kenya is all about.The social media, the convetional media and some involvement in private as well as public discussions ourightly show that politics of Kenya is tired of presidents from one region or one community and that the central Kenya region is allergic to any idea of Kenya's president coming from any other community other than the central Kenya community. This is not only Kenyan political challenge but a post-colonial challenge of the state as discussed also by Mahmood Mamdan in his essay Linking the Rural and the Urban, anthologized by Tom Young in the Readings in African Politics, and also by Achille Mbembe in the Post-Colony. Comparatively, this what Amada Lee Koe has discussed with vintage clarity in her collection of short stories. Considering the quality of its work, to many readers it came as no surprise that the collection won the biennial Singapore Literature Prize 2014 in the English Fiction category. What Amanda Lee Koe does particularly well is to use creative, non-linear narratives to expose precise amounts of information about her characters. She is keen on experimenting, often effectively, with the fragmentation of narrative in various forms—be it a cluster of half-factual, half-imaginative diary entries giving insight into the life of a historical .
Just like the title of the book actually Kenya's 2017 general election was a moment of moral panic, it was the time of stirring up moral panic through advanced technique of electoral fraud as part of the post-colonial politics . Just like the question of why the rich are rich in kenya,Amanda Lee also handles the same question using the experience in Singapore by showing tensions about ethnicity or sexuality are explored as issues that escape the conventional rhetoric of Singapore's economic prosperity.
I want to share in the sentiments of other readers of the Ministry of moral Panic by commenting that the book is a worth-wile read in the modern times of a globalized world in which no location is completely free from outside influence, it is fashionable to dispel all notions and claims of inward looking ethnic authenticity. But The Ministry of Moral Panic feels authentically Singapore, because each well-crafted story, although focusing on one present moment, is based on the unique historical formation of a nation, and because collectively the stories present a series of cathartic reading experiences that critically rethink the stumbling blocks in Singaporean society as a replica of all other Post-colonies.
Alexander Opicho , Mail; [email protected]
Disclaimer:

"The views/contents expressed in this article are the sole responsibility of

Alexander Opicho

and do not necessarily reflect those of The Nigerian Voice. The Nigerian Voice will not be responsible or liable for any inaccurate or incorrect statements contained in this article."