INDIAN FILM 3 IDIOTS SWEEPS BOLLYWOOD AWARDS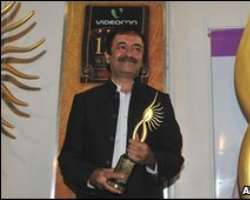 A film that broke box-office records in India has won nearly all the top International Indian Film Awards – often called the Bollywood Oscars.
The comedy 3 Idiots, starring Aamir Khan and directed by Rajkumar Hirani, won 16 out of 27 awards, including best director and best film.
The ceremony was held in the Sri Lankan capital, Colombo.
Members of the film industry from the Indian state of Tamil Nadu had asked Bollywood stars to boycott the event.
They wanted to protest against the treatment of Sri Lanka's Tamil minority.
Many ethnic Tamil civilians died during the country's civil war which ended last year, rights groups allege.
The stars who stayed away from the awards ceremony included Amitabh Bachchan, who won best actor for the film Paa.
Some of the Bollywood stars who came defended their presence.
One, veteran actor Shatrughan Sinha, said: "We are not representing north, east, west or south India, but I am representing the whole of India for that matter as a world citizen… And our only caste, our only religion, is entertainment."
The BBC's Charles Haviland in Colombo says that the controversy shows that a year after the government's victory against Tamil Tiger separatists, Sri Lanka is still overshadowed by the conflict.