Lady Oseme Woos Votes For Husband, Applauds Dame Okowa's Charitable Works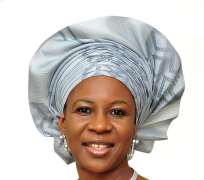 Ahead of the January 6th 2018, local government elections in Delta State, wife of the immediate past chairman of Aniocha North local government area, Lady Adaobi Oseme, has told people of the council that the choice of her husband, Mr Chuks Oseme, by the leadership of the Peoples Democratic Party (PDP), is the right choice.
Lady Oseme was optimistic that the PDP would record landslide victory in the forthcoming local government election just as she urged the people of Aniocha North to come and exercise their franchise.
She said the choice of her husband Mr Oseme, to fly the PDP flag for the election is a right decision for the Aniocha people, stressing that the leadership style of Oseme's first tenure was a commendable one, thus given him an edge for another contest.
While thanking the people of the council area for believing in them and the support they have enjoyed, she pledged her total support for the programme of Dame Okowa and that of Aniocha North.
Meanwhile, Lady Oseme, has applauded the kind gesture of the Delta State governor's wife, Dame Edith Okowa, for putting smile on the faces of children, orphans and other women during Christmas season.
Lady Oseme said that the season is a season of showering of gifts on the needy as well as loved ones to enable them enjoy and celebrating the birth of Jesus Christ without grumbling.
She urged other women to emulate the kind gesture of Her Excellency, who she said cannot celebrating her own Christmas without putting smile in other people's face.
"Since we enter Christmas season, Her Excellency has been giving different gifts to people from one group to the other especially through her O5 initiative programmes. She distributed different items to orphanage homes, Christmas rice to widows and today is children party and many others. It is not an easy task, I commend her effort and pray God to strengthen her in this course", she prayed.
She continued: "Through her O5 Initiative project, many lives have been touched in one way or the other. We are proud of her ministry and we shall continue support the programme", she said
She reminded Deltans that Christ is the reason for the celebration, "while you are celebrating Christmas, I want to use this opportunity to tell Deltans to remember that Jesus is the reason for the celebration, love and try to love your neighbours and celebrate with him or her no matter how little. It will go a long way in their homes", she added.