Christmas Amidst Fuel Scarcity  ...Osun Residents narrate ordeal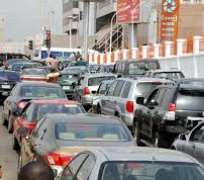 Apart from the recession rocking the country, another hit is now in town and not just in town at any other time, it is fuel scarcity at Christmas.
"I was at home all through the day since there was no fuel in my car to take my family out." Mr Bello Opeyemi told the Nigerian Voice during a cross section with residents and especially Christian residents of Osun State.
Mr Opeyemi's situation wasn't different from majority of the state residents' condition during the much awaited Christmas day.
Another resident lamented that, "There is no money in the country yet things are getting more expensive and now again no fuel, I really do not know what to make of this period."
It would be recalled that the Nigerian Voice some days back reported the high transport fare and its effect on the people of the state. It is sad the situation didn't improve before the D-Day and in fact, some people had to tag the period, "A Christmas like No other"
Joy Mayokun also narrated that, "the scarcity and hike in price of the fuel really destroyed the plan and movement of people this Christmas, especially in Ilesa, the commercial vehicles in the town now double the amount of the transport fare, some even tripled it because of the scarcity of the fuel.
"This has become unbearable for the people living here (Ilesa), the people are complaining about the increments of the transport fare while some drivers were complaining of the scarcity and the hike in the fuel price, this really spoiled the fun and the merriment of the Christmas. Some drivers who should be with their families to enjoy the festival were on the queue in some filling stations waiting to buy fuel while some average families in the town could not afford the transport fee to the market to collect the little things they would used for the celebration.
"It has not been easy at all here because so many people had to park their cars and stay indoor. Please I urge our Government to find solution to this fuel problem our people are facing."he added sadly.