Osinbajo hold meeting with major oil marketers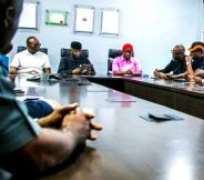 The Vice President, Professor Yemi  has taken the gauntlet of finding solution to the current biting fuel scarcity in the country.
The Vice-President along with the Minister of State for Petroleum Resources, Dr.Ibe Kachikwu, met with some major oil marketers  in Lagos on Monday.
The  details of the meeting were however not revealed to journalists.
But Osinbajo said government would continue to engage marketers to ensure that "this sad episode is not repeated".
"Held a meeting with the major Oil marketers this morning. Within the next few days, we expect the fuel queues to be eliminated," Osinbajo tweeted
"We will continue to engage the marketers so this sad episode is not repeated."

Meanwhile,  Kachikwu said in a tweet that Monday's meeting, which was 'productive and collaborative', was convened as part of efforts by the Federal Government to frontally provide the much-needed solutions to the lingering fuel availability challenges across the country.
According to him,  the government has mandated the Nigerian National Petroleum Corporation and other relevant agencies to ensure the states are flooded with the product.
He said, "Whilst empathising with Nigerians for the needless pain and suffering that the current situation has sprung up, we expect that the fuel availability challenges evidenced by long queues will be completely eliminated, soonest.
"We are leaving no stone unturned as we continue to monitor the current fuel situation and collaboratively work with the NNPC and the Department of Petroleum Resources (DPR) to assiduously execute already communicated ministerial directives to maximally flood the market with products."
He further thanked Nigerians for their understanding and support for the administration of President Muhammadu Buhari, adding that measures are being put in place to prevent a reoccurrence of such incident.
He said: "The bigger picture is to ensure that a repeat of the current challenge is never again experienced; I thank every Nigerian for the support even in the face of challenges. God bless you and I respectfully wish you a splendid holiday and celebration."
In continuation of the field rounds in our bid to frontally provide much needed solutions to the lingering fuel availability challenges with the Vice President H. E  @ProfOsinbajo , SAN, we engaged the Major Oil Marketers in a very productive and collaborative meeting.  pic.twitter.com/DsGvkgFfQR
— EIK (@IbeKachikwu)  December 25, 2017
Whilst empathizing with Nigerians for the needless pain and suffering that the current situation has sprung up, we expect that the fuel availability challenges evidenced by long queues will be completely eliminated, soonest.  pic.twitter.com/9kVNfMzTMh
— EIK (@IbeKachikwu)  December 25, 2017
We are leaving no stone unturned as we continue to monitor the current fuel situation and collaboratively work with  @NNPCgroup  and the Department of Petroleum Resources to assiduously execute already communicated ministerial directives to maximally flood the market with products.  pic.twitter.com/ospL33o5V7
— EIK (@IbeKachikwu)  December 25, 2017