Christmas Message: Obiano Urges Christians to Touch their Neighbours with Love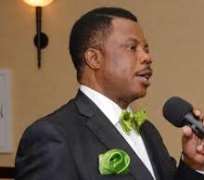 The Governor of Anambra State, Chief Willie Obiano has called on all Christians to reach out and touch their neighbours with love as they commemorate the birth of Jesus Christ this Season.
In a Special Christmas Message issued by James Eze, his Senior Special Assistant on Media in Awka, Governor Obiano described Christmas as the season of love when Christians are expected to rise above all inhibitions to show love to their neighbours.
Said he: "Christmas underscores the salvific role of Christ to mankind and reminds us all of the centrality of sacrificial love to a more peaceful and harmonious world. So, in the birth of Jesus Christ, we Christians are reminded that love is the first condition for a better world."
Speaking further, Governor Obiano observed that Nigeria was in a period of time when only sacrificial love can heal the deep-seated wounds and harrowing agonies that harangue the people on a daily basis.
"We need to be kind to one another, encourage one another and support one another. Nigeria is at a time when we must all come together to seal the cracks between us with love and the celebration of Christmas gives us a perfect opportunity to do just that," he further advised.
Governor Obiano also used the opportunity of the Special Christmas Message to re-emphasis his appreciation of the renewal of his mandate for the second term in office by the people of Anambra State.
Toeing the line of his Christmas Video Message released a week earlier, Governor Obiano thanked Ndi Anambra and Ndigbo at home and in the Diaspora for their overwhelming support in the November 18 gubernatorial election in the state.
He assured the people that he would do everything within his power to surpass their expectations and justify their faith in him in his next term in office.
Governor Obiano also used the opportunity of the Christmas Message to further dispel speculations alleging that he was contemplating to run for President in 2019.
He dismissed them as a mere political stargazing which has no bearing on the facts on the ground.