Reflections on the Outcome of the Recent Anambra State GovernorshipElections by Alaigbo Development Foundation (ADF)
A Statement on the Recent Anambra Governorship Election.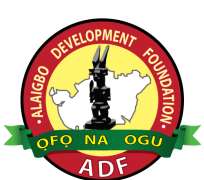 The Alaigbo Development Foundation (ADF) considers the outcome of the recent Governorship Election in Anambra State as a historical milestone in the political history of Anambra State, nay of Alaigbo in general.
For us in ADF, the result of the election reflects the following: -
1. The recent military invasion of Alaigbo code-named OPERATION PYTHON DANCE, which came in the wake of the Anambra Election took the entire Alaigbo by storm and left bitter memories especially the feeling of total conquest.
2. Matters were not helped by the manner in which the campaign train of President Buhari swept through the northern parts of Alaigbo, in the form of an AMADA, with elaborate celebrations along the way that looked like a victory parade.
3. The AMADA descended into Anambra State with an arrogant smell of military intimidation with the strange act of withdrawal of the security details of the Governor of Anambra State in order to intimidate him into fear and surrender. Everything had an obvious display of an unstoppable determination to take over Anambra State politically. Some of the Party chieftains of the All People's Congress (APC) had no restraint in their language proclaiming a forgone victorious political over-running of Anambra State.
Rejecting the Arrogance of power
4. It was in this context that the Anambra Election took place. ADF, therefore, see the result of the election first and foremost as -
i. Refusal of the people of Anambra State to provide an occasion and an arena for celebration to the Government and Military of Mr. President or to allow them dance on top of the mass graves of unarmed youth murdered by the Federal troops in the wake of the military invasion of Alaigbo otherwise called OPERATION PYTHON DANCE.
2
ii. The result of the election was an act of the people of Anambra state to spun the AMADA which accompanied Mr. President and reject the attempt to take over the political control of Anambra.
iii. To spun the arrogant smell of military intimidation that was obvious in the strange act of withdrawal of the Security details of the Governor Obiano in order to intimidate him into fear and surrender.
iv. It was a demonstration that anything that affects anyone or any part of Alaigbo affects all the citizens of Alaigbo.
v. It was indeed a demonstration to our brothers, sisters and friends in other parts of the Federal Republic of Nigeria that the spirit of the Igboman has not lost its courage and sense of honor, nor has it surrendered to alien forces that strive to enslave it.
5. It is indeed in the light of the above that the decision of the Obi of Onitsha, Igwe Nnaemeka Achebe, Agbogidi, not to leave his Palace and go to Awka to receive President Buhari and his entourage received popular approval of Umuigbo both at home in the Igbo Diaspora.
6. There is an Igbo elder who lives in Lagos, as the Presidential AMADA was sweeping through Ebonyi State and Mr. President was being crowned like a conqueror, this elder called on the President of ADF, virtually weeping and you could hear the panting of his heart; he said to him 'Professor, I think am going home, there is nothing more to leave for again as an Igboman!"
The ADF President replied him very sharply and said, No! Don't do that, it is never over, until it is over!
But as soon as the final result of the Election was announced, the elder called the ADF President again. "Thank God", he said; "Chineke Ndigbo ka mu anya!"
The Factor of Performance.
7. The Victory of Governor Obano in the election is a result of the above. It is also as a result of his performance. ADF assesses the performance of each Government in Alaigbo in terms of the extent governance promotes the development and welfare of Umuigbo living in the State.
8. The Alaigbo Development Foundation (ADF) as a non-partisan organization, has maintained relationship with the Governments and other stakeholders in Alaigbo on the basis of principle. The highest expression of that principle is embodied in the motto of ADF, namely, The Rebuilding and Development of Alaigbo and the Rebirth and Advancement of the Spirit of Her Culture and Civilization.
9. In order to have a rational basis for this assessment, ADF had early last year produced A Blueprint, captioned A New Economic and Social Development Agenda for Alaigbo, which was addressed to all Governments and Stakeholders in Alaigbo.
10. ADF has gone further to enunciate the philosophy of AKURUO ULO (Invest-At-Home Movement – Think Home, Invest Home!). We went further to take the campaign to Lagos, Abuja and finally to Alaigbo in a major Conference of Igbo Businessmen held in Enugu, on December 18, 2015.
11. On the 4th of January 2017, ADF organized special recognition of the Pathfinders of Akuruo Ulo who were honored at Awka, the capital of Anambra State. That event was hosted and presided over by the Governor of Anambra State, ably represented by his Deputy. The Governor. Chief Willi Obiano and his predecessor, Mr. Peter Obi, were among the recipients of the ADF Recognition for their exemplary contributions to the development of Anambra State.
12. It was in this context that ADF wrote Governor Obiano to express our approval of the bold development initiatives including partnering directly with foreign investors for his promotion of the development of Anambra State. In the ADF Agenda for the Development of Alaigbo, we specifically enjoined the Governments in Alaigbo to cultivate the spirit of Self-Determination and Self-Reliance including relating directly with the outside world and seeking direct investment for the development of Alaigbo. In that regard, ADF had expressed support for those Governments in Alaigbo who are making genuine efforts to break the isolation of Alaigbo in the world by seeking direct investment from the international communities, ADF had this to say in the Agenda,
Recent interactions between our Governments (in Alaigbo) with other parts of the World, for example, the recent one between the Anambra Government and the Korean Government is very salutary in this respect. Similarly, the recent reactivation of the Flour Mills, which ceased production more than two decades ago, in partnership with a Vietnamese firm, VTV International Trading and Investment Company Limited (DVI) is a highly commendable development.
Our Governments should keep active window to the world. ADF will help to mobilize the enormous Igbo talents in the Diaspora to help drive this campaign to break our political and economic isolation in the world. We must learn to actively internationalize our concerns and issues. (p.15)
13. Does anyone ever stop to ask why the North monopolizes certain Ministries especially those that have to do with foreign aid and investments? Does anyone stop to imagine what manner of President will ask International Donors to concentrate their foreign aid in his region?
4
ADF Industrial Tour of Anambra State
8. In the efforts of ADF efforts to find out what is going on the sphere of development in Alaigbo beyond the testimony of the Governments and their aids, ADF undertook the first phase of an Industrial Tour of Alaigbo which began in Anambra State. That took the ADF team first to Nnewi and Onitsha. This took place on June 21st this year. According to the report on the tour,
ADF delegation saw overwhelming evidence of what the Government of Mr. Peter Obi had accomplished in growing domestic capital and providing infrastructure in the Industrial areas of Anambra State. In order words, both the Governor and his predecessor are pace-setters or pathfinders whose performances are considered as indeed pace-setting. No wonder, many Igbos in and out of Alaigbo consider Anambra state as lucky in having Governors who regard development as a fundamental task of good governance,
We have since published the result of that Industrial Tour in a Video documentary which we shared with our compatriots.
Eze Eberechi Dick of Abia State and the Dishonor of Igbo Culture.
9. ADF is of the view that Igbo hospitality was overstretched in the way and manner Eze Eberechi Dick received and crowned Mr. President in Ebonyi State, an incident, as we narrated above that almost took the life of an Igbo Elder.
What was required at that occasion to receive Mr. President, was a simple ceremonial breaking of kola-nut and nzu, and offering him a bowel of kola-nut to take to Abuja as is common in Igbo Culture and Tradition. That would have sufficed for Igbo hospitality.
Why discredit the Chieftaincy title by using it for a purpose that is not noble in our culture? Indeed, what Eze Eberechi Dick did was a discretion of our hallowed tradition and culture.
As if to spit on the face of Eze Eberechi Dick and his colleagues who joined that unfortunate act, Buhari's immediate appointments showed clearly that he has nothing but utter disdain for Ndigbo and their tradition and cultural institutions.
ADF remembers with nostalgia, Ezeogo Dr Akanu Ibiam, in whose domain all those things took place at Abakaliki. His majestic spirit must have heaved very violently in the spirit world. Here was a man who, while alive, often shook the world with manifest confidence and proud spirit, fearlessness and highest sense of honor as father of the Igbo nation!
ADF still maintains that the horrors and abominations inflicted on unarmed Igbo youth and women during the Operation Python Dance requires a form of ritual cleansing. This calls for leadership from Eze Eberechi Dick and his colleagues, especially in Abia State. The call for this Ritual Cleansing of our land is still very imperative now as ever.
5
The Implications and Challenges of Victory for Governor Obiano.
i. The result of Anambra Election for the Victor, Chief Willie Obiano, carries a heavy burden on the Governor. He must justify the enormous confidence reposed on him by those who genuinely voted for him.
ii. Chief Willie Obiano does not need to be told that there is an echo of agony that resounds and is reflected in the spirit and psyche of Ndi Anambra and the rest of Ndigbo. Recent events have made this agony more menacing. Whoever inherits political power through their votes at this time carries with it the responsibility of providing the needed healing balm.
iii. Anyone who is entrusted with leadership responsibility in Alaigbo today inherits a parental role were all that live in her troubled domain are to be treated as members of one family. Such a leader can no longer play the role of belligerent actor in any encounter with any member(s) of the family.
iv. It is in this regard that ADF feels a lot of pains over the relationship between Governor Obiano and his predecessor, Mr. Peter Obi. Now that election is over and a winner has been declared, we urge Governor Obiano to reach out to former Governor Peter Obi so that both of them can join forces (irrespective of Party affiliation) with other patriotic leaders and organizations in Anambra State, nay Alaigb, to provide political leadership at this hour.
Nnamdi Kanu and the Indeendent Peoples Of Biafra (IPOB) Movement.
v. Let nobody go about with the feeling of Nunc Dimities nor the song of Happy Riddance in contemplating the recent tragic fate of the Independent Peoples' of Biafra (IPOB). Those helpless IPOB members, no matter the feelings in certain quarters, were thrust into our social and political horizon by factors that were not of their making, but all the same were factors that make every Nwafor Igbo carry a great burden on his heart; burden of abject rejection in a country they have labored and believed was their own.
vi. There was a time the Governor of Anambra State had in a public confession tendered a public apology of having erred in a previous attitude and action towards the IBOP and other pro-Biafra members. ADF saw that action of their Governor more as an act of statesmanship, not an electoral stunt. That spirit should guide him today in his post-election approach to the tasks of healing needed in Alaigbo
Recent experiences of the IPOB and Igbo patriots, especially during the Nigerian Army Invasion of Alaigbo under the guise of OPERATION PYTHON DANCE have left an indelible feeling of being a conquered race, among Ndigbo. Accusing fingers are flying left, right and center. Whatever is the case, Governor Obiano's recent victory at the
6
polls, which can rightly be called THE PEOPLE'S VICTORY, has placed him in a nonenvious
position of playing a paternal role to all.
vii. The greatest statesmanlike action required of him at this historic juncture is to rally
round his colleagues and patriots across the political divide to work with the Federal
Government to provide an answer to WHERE IS NNAMDI KANU and WHERE
ARE HIS PARENTS?
If Nnamdi Kanu is dead, we believe Ndigbo would like to give him a proper burial. But
if he is alive, the challenge facing Governor Obiano, as the man, on whom history has
entrusted a heavy political responsibility, is to take urgent steps in collaboration with
other Igbo leaders to have him released, and both he and his colleagues freed of any
political incarceration.
14. If this is done, the next task is for those well-meaning elders in Alaigbo, who had, until
recent events, done a lot to bring Nnamdi Kanu and his associates under a more rational
political and social activism to continue from where they stopped. They still have a role
to play.
15. As we, in ADF, engaged in this reflection, news came about the honor being bestowed
on Gani Adams by his people - our neighbors and friends in the Oduduwa. We in ADF
wish to declare that
Ndigbo are not denied this type of wisdom in the management of the challenges of
their history.
Finally, with reference to the Report of the Civil Liberties Organization (CLO) and some other
Election observers on the conduct of the recent Election in Anambra State, ADF would like to
cooperate with all those who wish to see the enthronement of genuine democracy in Alaigbo as a
basic ingredient to our political freedom to pursue a program of promoting free and fair election in
Alaigbo and elsewhere in Nigeria. Such report also raises critical issues and hence challenges in the
management of post-election developments as far as Alaigbo in general is concerned.
PROF. UZODINMA NWALA
ADF PRESIDENT
PROF. NATH ANIEKWU
ADF SECRETARY
DR DOZIE IKEDIFE
CHAIRMAN, ADF BOT
ELDER (DR) KALU UKE KALU
VICE CHAIRMAN, ADF BOT
Disclaimer:

"The views/contents expressed in this article are the sole responsibility of

Alaigbo Development Foundation (ADF).

and do not necessarily reflect those of The Nigerian Voice. The Nigerian Voice will not be responsible or liable for any inaccurate or incorrect statements contained in this article."