Osun 2018: APC, PDP knock horns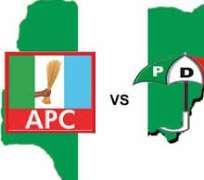 The heat between the All Progressives Congress, APC, and the Peoples Democratic Party, PDP, Osun State chapter, has gotten hotter as the 2018 governorship election knocks on the door.
Knocking horns on a radio programme monitored by The Nigerian Voice, a chieftain from the PDP, Mr Akin Adeyi noted that the APC has failed in its governance delivery and that the people of the state are eager for a change come 2018 while the state Commissioner for Innovation, Science and Technology, State of Osun, Engr. Oluremi Omowaiye, said the people of the state knows the truth and would not vote for a dead party like the PDP. ,
Omowaiye said the party is clinically dead, has no brain, no liver and has resorted to lies and blackmail against the state government to propagate its agenda.
However in a swift response, Adeyi said the party is not dead or dying and is not in any crisis.
Speaking on the fast approaching election, Adeyi said the people of the state cannot wait to vote in the PDP who would not prioritise developmental projects over workers' salaries.
"You are building schools at the expense of dying workers, building roads as people are selling their cars. The people of the state has expressed their feeling in the recently conducted Osun West senatorial election and would do the same come 2018."
In his response, Omowaiye said that, "We know the PDP does not value infrastructure and you are only defending your dead party. Over 80% was used for workers from the first and second tranche of Paris club Refund and we know Government is not about paying workers alone.
"Look at the roads we have built, the schools, the markets and other infrastructural developments. When there was resources in the state, the PDP could not do it anything so how would you rule now that there is limited resources.
"Osun people knows the truth. We only thanked the State workers for their understanding."