Is Rihanna enganged to Rumoured boyfriend Hassan Jameel?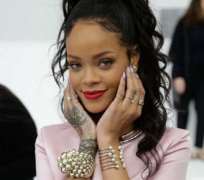 Rihanna's latest outfits have been so eye-catching ( see our weekly recap here ) that you may have missed a pretty big detail of her look on Wednesday — a giant diamond ring worn on that finger.
The star was spotted at Chris Rock's show at Madison Square Garden in N.Y.C. wearing a ginormous rock on her left hand that appears to feature a champagne-colored center stone surrounded by white diamonds.
Despite it's massive size, the piece of jewelry might have been easy to miss thanks to the head-turning outfit she paired it with: an embroidered oversize coat, denim wide-leg pants and a Céline T-shirt.
Rihanna wasn't accompanied by her rumored boyfriend , Saudi businessman Hassan Jameel at the show, but they have been seen hanging out recently. And while Rihanna was all-smiles for the paparazzi, a source confirms to PEOPLE that the ring is not linked to an engagement.
On Halloween she was spotted with Jameel and a group of friends grabbing dinner and going bowling in Cambridge, Massachusetts, with a source telling PEOPLE the two were spotted "canoodling all night."
RELATED PHOTOS: Rihanna's Riskiest Looks Ever
Back in June the two were first linked after she was seen  kissing Jameel during a summer vacation in Spain.
WATCH: Why Is Rihanna Giving Us Shoe Envy?
Hassan is an heir to the Abdul Latif Jameel business dynasty of Saudi Arabia. The company owns the right to sell Toyota Motor vehicles in Saudi Arabia and other Middle Eastern countries (among other ventures) and Hassan serves as the president of the charitable organization within the company, Community Jameel.