PDP Convention: Buruji, Olamide chased away by Delegates
*** Secondus, Mustapha, Dokpesi, Inna Ciroma, Olagbondiyan,Duntoye, Maibasira in last minute campaign to delegates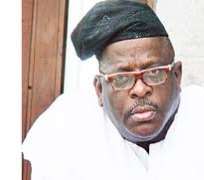 ABUJA-THERE was a mild drama at the on- going 2017 Elective National Convention of the Peoples Democratic Party, PDP when Senator Buruji Kashamu, Ogun East was chased out of the Stand of his state.
Senator Kashamu who was clad in white kaftan, shinning blue shoes and dark glass to match who arrived at the Ogun state Stand, was welcomed with shouts of go away and to respect himself, he left with his supporters.
To find refuge, the Senator went to the next stand which is Ondo, but the delegates there also drove him away. Senator Buruji Kashamu finally got accommodated by the Osun State delegates where he sat in between the former National Secretary of PDP, Professor Wale Oladipo and Senator Felix Ogunwale.
Earlier in the day, there was a similar scenario at the Ekiti Stand when delegates shouted at another delegate who was already sited to stand up and leave the stand.
The Ekiti delegates who are apparently loyal to the governor, Ayodele Fayose went to a serving member, Ekiti State House of Assembly, Honourable Oni Olamide, Ijero/ Ekin / Efon constituency who was already seated, tried to drag him out, but he resisted it. When the policemen tried to intervene, the delegates pushed the policemen way, asking them to leave the police, just as they shouted saying, " anyone with uniform go away from here, show us your tags if you are really policemen. "
The policemen had no choice than to leave the place.
While the shouting was going on, a chairmanship aspirant, Professor Tunde Adeniran and Senator Duro Faseyi, Ekiti North were seated. Senator Biodun Olujimi who who is apparently not in the good books of the governor came to the scene, but could not calm the situation and she had to leave the scene.
At the end of the day, all the Ekiti delegates left the stand, leaving Olamide alone, but they later came back, but the member, House of Assembly had left.
Speaking with Vanguard, Olamide said, " they are asking me to leave the stand because Iam not in good terms with the governor of Ekiti State. They said that Iam not a delegate,that is a big fallacy, Iam a delegate by virtue of my position as a member of House of Assembly."
Meanwhile, former Deputy National Chairman of PDP and a strong contender for the position of National Chairaman, Prince Uche Secondus in a carnival like nature is going round to greet delegates at various stands as part of last minute campaign.
He is being accompanied by all the delegates from Rivers State.
Also going round with women for last minute campaign are Abubakar Mustapha for the position of National Secretary; Hajia Maryam Inna Ciroma for the position of Deputy National Chairman, North; Chief Raymond Dokpesi for the post of National Chairman, Abdullahi Hussaini Maibasira for the position of National Financial Secretary; Kola Olagbodinyan; Faruk Adejo and Ben Duntoye, all for the position of National Publicity.