Court vacates freeze order on Patience Jonathan's 16 bank accounts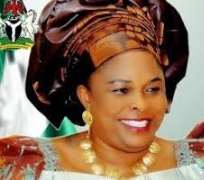 An Abuja Division of the Federal High Court has set aside its order made on May 30, 2017, freezing 16 accounts belonging to the wife of former President Goodluck Jonathan, Patience.
Justice Binta Nyako withdrew the order on Tuesday, on the grounds that the Economic and Financial Crimes Commission (EFCC), which secured the freezing order, failed to conduct its investigation into the alleged infractions involving the 16 accounts.
The court's decision followed an application by the counsel for Mrs Jonathan, Mike Ozekhome, asking the court to set aside an ex parte motion filed by the EFCC for continued control of the accounts.
The lawyer described EFCC's motion as an abuse of court process.
"The judge, Justice Binta, had given the EFCC 90 days within which to investigate and prosecute parties involved in the allegations but they never did that.
"So we asked the court to set aside the interim forfeiture order. The judge set aside the order granted on May 30," Mr Ozekhome said. (Nigerian Tribune)