Imo Peoples Action For Democracy (ipad) Calls For Occupy Imo Peaceful Rally In Owerri On The 18th To 24th December .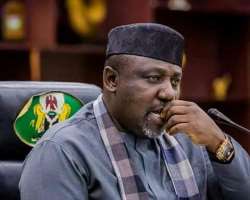 Imo Peoples Action for Democracy (IPAD) will be holding a one week peaceful rally tagged OCCUPY IMO from Monday the 18th to Sunday the 24th December 2017 at Okigwe road opposite Rock view Hotel Owerri.
This rally is a response of the people to the increasing height of bad governance in the state which is now attaining its peak such as:
1. Lack of due process and respect for rule of law
2. Waste of scarce resources on non economically viable and life improving ventures.
3. Refusal to fully pay workers salaries, pension arrears and gratuity to pensioners.
4. Issuance of dude cheques to pensioners.
5. Failure to account for the bailout funds, Paris refunds and other loans collected.
6. Use of State fund and apparatus in conducting his personal business.
7. Illegal demolitions and displacement of people resulting to loss of means of livelihood by thousands of Imolites even against restraining court orders.
8. Nepotism and familiocracy.
9. Unending grabbing of land using government powers and conversion of same to personal properties.
10. Refusal to conduct local government election and failure to account for the trillions of Naira that has been allocated to that tier of government for over six years.
11. Construction of poor quality infrastructures and increasing multiples of abandoned projects in the State.
The time and venue for this protest has been strategically chosen to ensure that the State government's usual ploy of diverting attention of Chritmas returnees away from the rot in governance through impressionist cosmetic beautification of the state is thwarted. The protest will therefore keep the people conscious about their sufferings in the hands of the government. Some notable Imo born activist that will speak at the rally inclue; Chidi Odinkalu, Sam Amadi, Festus Okoye, Ezenwa Nwangwu, Victoria Ibezim, Chido Onumah, Clement Nwankwo, Okechukwu Nwanguma, Wisdom Durueke, Louis Alozie, Charley Boy Oputa, Etc.
Imo People's Action for Democracy (IPAD) is a coalition of civil society groups, activists, faith based groups, professional bodies, community based organizations, etc that have come together to stand up in defense of democracy in Imo State henceforth. The coalition will continuously engage both the government and the citizens on good governance and democracy. It will at all times readily mobilize Imolites on lawful steps and actions to resist bad policies and actions of government.
We therefore use this medium to call on Imo people irrespective of affiliations to massively sign up to this patriotic rally to ensure we collectively send our message to the government.
God bless Imo State.
Signed.
Aku Obidinma(Coordinator)
Chilos Godsent (Chairman Strategy Committee)
Chibundu Chibunna (Chairman Publicity committee)