KC, Ebube in reunion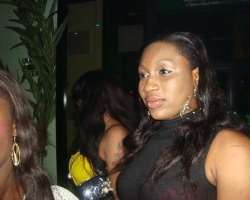 Kingsely Okonkwo a.k.a. KC, of the KC Presh group, got married recently.
The engagement and traditional marriage was the talk of the town as a lot of money was said to have been spent during the two events.
But while the marriage was talked about, his past relationship with actress, Ebube Nwagbo, made more than enough headlines. It was reported all over the news media that the handsome dude had dumped Ebube and went for the other lovely chic.
Some people even alleged that the actress turned to God when she could not bear the heartbreak anymore and had to relocate to the US because she could not face what she considered a shame.
But lovely Ebube was sighted in Lagos recently at an event. And guess who she sat with all through the show. KC!
And before you ask, his new wife was not anywhere in sight. Rather, it was his partner, Presh, and his brother, Emy, who were there with them.
The two chatted endlessly like the friends they have always been.