Osun has the lowest Poverty Index level- Statistician General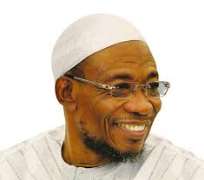 The Statistician - General of the Federation, Dr. Yemi Kale, has reiterated that Osun State remained the lowest in poverty index level.
This is even as the Chairman, Osun State House of Assembly Committee on Information, Mr. Olatunbosun Oyintiloye, has been adjudged the most outstanding lawmaker in Nigeria by the Patriots in Leadership and Service.
According to a statement signed by Oyintiloye on Sunday, the Statistician General stated this at the ceremony where he ( Oyintiloye ) was conferred with the award in Abuja.
The statistician -general, who was represented at the ceremony by a Director in the NBS, Mr . Isiaka Olanrewaju, said some people thought that Osun was not doing well in poverty reduction but the report on the analysis and the indicators had proved otherwise.
He words, "We have compiled some indicators to rank states based on their performance and when some people are thinking that Osun is not doing well, those indicators proved otherwise .
"There is one indicator that measure incidence of poverty in Nigeria and on the ranking, Osun State came last , meaning that Osun is the first state where poverty would not have its way .
"When you now talk of Osun State as the state that is not doing well, these indicators proved otherwise. That is again what has reflected in this award, meaning that such honour should be given to those who actually merit it."
Governor Rauf Aregbesola, who was represented at the ceremony by the Commissioner for Federal Matters , Idiat Babalola , said he was impressed by the honour conferred on Oyintiloye.
The governor stated that Oyintiloye, who represents Obokun State Constituency, had distinguished himself in leadership and service to the people of the state and his constituents.