Crescent University Alumnus Bags Top Bbc Job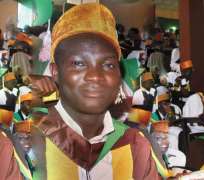 An alumnus of Crescent University Abeokuta, Adedeji Ajayi has clinched an appointment with British Broadcasting Corporation (BBC) as Senior Journalist in charge of Planning.
In a statement by the public relations office of the institution, the Proprietor, His Excellency Judge Bola Ajibola extolled the alumus for doing the institution which prides itself as Citadel of Academic and Moral Excellence proud.
We are gratified at the news of one of our products, Adedeji Joshua Ajayi who recently got a top journalism appointment with British Broadcasting Corporation. He has indeed added another feather to the cap of our Citadel of Academic and Moral Excellence, Ajibola has said.
According to him, Ajayi emerged for the prestigious job of the British Broadcasting Corporation from a pool of 170 candidates that contested and was rigorously interviewed for the job. He added that the feat showed the quality of staffing, facilities and training in Crescent University.
Adedeji Joshua Ajayi bagged both his BSc and MSc degrees in Mass Communication from Crescent University, Abeokuta. He also made a PhD grade and led the pack as the best graduating student at the postgraduate level in the 2017 convocation of the institution.
Judge Ajibola recounted that twelve years of Crescent Universitys existence had been fruitful as the institution had produced excellent products both in employment and further studies, home and abroad.
In his words, the most reliable criteria for university ranking especially for parents and sponsors should be the quality and performance of graduates in further studies and employments, Ajibola proclaimed, stressing that products of Crescent University have been tested and trusted on both fronts over the years.