Sammie Okposo Says He's Getting Married!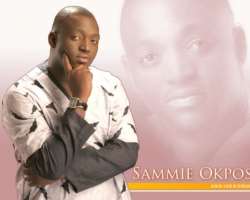 Finally, 'unrepentant bachelor' Sammie Okposo has now made up his mind to settle down and leave the single men's club! Okposo, who has been promising fans he'll settle down since 2006, appears to have found his missing rib, and he's not wasting time before he ties the knot…
Going by the information reaching us from his publicist, "The traditional wedding is scheduled for June 26 in Anambra State and the white wedding will take place in Lagos on July 1st, 2010″
"God has given me my soul mate. A virtuous woman that will complement me, loves me for who I am and is not intimidated. or perturbed by my status. This is the lord's doing and it's timely and marvellous", Okposo said in a release, yesterday.
Wondering who Mrs-Okoposo-to-be is? It's certainly not Stella Damasus.
Okposo's bride is simply identified as Nwanne