Ernest Obi opens door for stars at wedding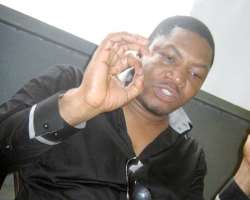 For actor Ernest Obi, who set out on another journey in marriage with his heartthrob of many years, Evi Oki, on Sunday, May 30, it was simply another day with destiny.
The event, which took place at Alaba International Market, Lagos, witnessed a mammoth turn out.
Unlike most Nollywood celebrity events, Obi appears to be in the good books of most of his colleagues who had to abandon their busy schedules to be parts of history.
Although stylishly dressed Obi and his wife were not expecting the large turnout because of the size of the venue, the wedding had all the trappings of a celebrity wedding.
One of the strange sights at the event was the President of the Actors' Guild of Nigeria, Segun Arinze, whose election as the guild's president was strongly opposed by the groom.
Other popular faces at the event include Chidi Mokeme, Olu Jacobs, Justus Esiri, Emeka Enyiocha, Empress Njama, Steve Ajeboh and newly wed actress Ufuoma Ejenobor who practically 'forced' herself to be noticed by the guests.