Aasu Condemns The Auctioning Off African Migrants As Slaves In Libya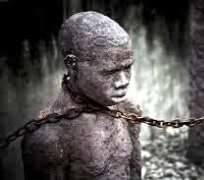 It is a secret of Polichinelle that after the violent overthrow of the Government of Libya and the murder of Colonel Gadhafi, the country has been plunged in a turmoil characterized by political and economic collapse, inter-militia and inter-tribal rivalry, humanitarian and migrant crises, widespread human rights violations and the growth of the Islamic State of Iraq and the Levant (ISIL) in North Africa.
Libya has become an inferno for tens of thousands of disillusioned and despaired young Africans in the search of better opportunities in Europe. These young people have been dying daily in the Mediterranean Sea. After Italy signed a memorandum with the UN and U.S.-backed government of Libya , known as the Government of National Accord (GNA), in Tripoli, the refugees intercepted by the Libyan coastguard have been rerouted to detention centers in other parts of the country, where they have been subjected to deplorable conditions . An exclusive CNN report , published last week, that has caused worldwide condemnation, found that many of these migrants, most of whom come to Libya from sub-Saharan Africa, are being auctioned off as slaves by smugglers.
The seeming silence of African leaders on the Libyan tragedy was and remains a dangerous standpoint for the continent as a whole. And cries, over the CNN report, can, only, produce crocodile tears.
This situation should be an exceptional occasion to bring to the fore the direct responsibilities of the African regimes in the plights of their young people.
We denounce Europe and its accords with Libya to prevent African immigrants to cross the European borders after creating chaos in Libya by assassinating Colonel Mouammard Khadafi. However this crime against humanity, being perpetrated in Libya, must be a wakeup call for African governments.
AASU expresses its profound indignation at this human trafficking in Libya. This degrading practice demonstrates the gravity of the situation in Libya that has become a lawless zone since the death of Khadafi. AASU calls on African leaders who, by their complicit silence, favour these practices of another age on the African continent.
These unfortunate situations are the direct results of the inabilities of African leaders to offer real alternatives to their younger population who are compel to use irregular migration at the peril of their life.
The African youth have enough of demagogic speeches and wishful thinking. It is time for action.
Down with slavery!
PETER KWASI KODJIE
Secretary General
All-Africa Students Union (AASU)
Tel: +233242879028 | +233502672146
Email: [email protected]
Alt Email: [email protected]
Skype ID: freekodjie