Aregbesola's road infrastructure is good but...- PDP Chieftain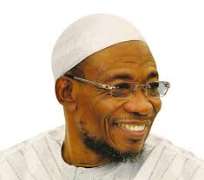 A Chieftain of the People's Democracy Party, PDP, Mr Bayo Faforiji has admitted that the road infrastructure of the state Government of Osun led Ogbeni Rauf Aregbesola is indeed laudable.
Faforiji said this while answering questions on a radio programme on Monday.
The PDP Chieftain however expressed that the state government shouldn't just squander money on road infrastructure alone as there are other projects to be done.
Faforiji said the Governor should consider paying the outstanding salaries and pensions instead of embarking on what he termed "elephant projects".
"Why borrow so much to build roads when people are suffering, workers are being owed salaries, the pensioners are dying. When everybody eventually dies from hunger, who would ply these roads?"
The Media Adviser to the Governor who was also on the radio programme, Mr Sola Fasure, however urged Faforiji not to exaggerate the condition of the state.
Fasure said the only a fraction of the workers are being owed half salaries and that the State government embarked on those projects to boost the its economy.