Did Big Sean Just Majorly Shade Ex Naya Rivera After Domestic Battery Arrest?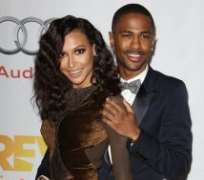 Hours after his fiancée Naya Rivera was arrested and charged with misdemeanor domestic battery, the actress' famous ex Big Sean seemed to shade her on Twitter.
On Saturday night, the former Glee star was arrested following an alleged altercation with her on-again/off-again husband of three years Ryan Dorsey in West Virginia.Kanawha County Sheriff's Office spokesperson Brian Humphreys told E! News that a police deputy responded to a call about a domestic violence complaint at a residence in Chesapeake, West Virginia on Saturday and talked to Dorsey, who said Rivera struck him in the head and face. The officer saw minor injuries consistent with Dorsey's statement. Rivera's husband also showed deputies a video made during the incident, which also supported his account of the incident, the spokesperson said.
While Rivera has not commented, Big Sean may have.
Just before midnight, Big Sean, who previously dated Ariana Grande and is now dating Jhené Aiko, seemed to respond to the news majorly dissing his troubled ex on Twitter . He tweeted a video of a little girl saying a phrase to the camera (which may be offensive to some): "I told y'all n—–. I told y'all n—–. Y'all thought I was playing, but I told y'all n—–."
While Big Sean did not tag or specifically say this was about Naya, Internet users were quick to infer that the words were directed at Naya, posting memes and comments about the actress. The video has over 30K retweets and 66K Likes.
  Drama! Big Sean watches as Ariana Grande and Jhene Aiko talk to each other. [Photo by Larry Busacca/Getty Images for NARAS]