Children calls on government to provide quality education for less privileged.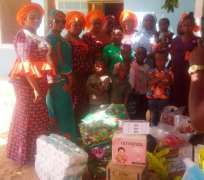 In Abuja, the children at the Good shepherd orphanage home is calling on the federal government to improve the plight of children in the home by providing them with good education.
They made the call on Sunday during an orphanage visit by the Omalicha Umuada Igbo Organisation (OUIO) an NGO.
''We want individuals to also extend their hand on fellowship to us, by providing us with basic provision, food items, and reading materials, says the children that lives in the home.
Blessing David one of the children appreciate what her foster mother has been doing to run the home on a daily basis.
"We will not disappoint her no matter what we are passing through, but will give our best in ensuring that we bring out the best in us.
"We believe that their is always a light at the end of the tunnel''.
The president, OUIO, Fct branch, Pharmacist Lilian Oguguw, urged all Nigerians to show love to other children in orphanage homes across the country.
According to Oguguw, the women group visited the orphanage as part of their social responsibility.
''We want the children to know that the society is not against them, for being in that home, we should learn to extend hands of love to others, no matter the tribe, religion or location we find ourselves.
''She said we must not wait to have the whole money before we show love to our fellow citizens".
In addition, no matter were we are, we should all extend our hands to show love and care to them. She said.
The Coordinator, Good shepherd orphanage home, Rev sister Rita lbekwe encouraged more Nigerians to emulate the women group in showing care to the children.
Sister Ibekwe said that one of the challenges they are having is there education, that they need more support because it is not easy to see all the children through schools.
Because some of them are in secondary schools while some have also graduated from secondary school, she want them to further their education.
We want to give them the best education, so we need more intervention from corporate organisations and individual.
''We have been working on our permanent site, so that we can have more room for expansion,"
She added that people should not allow distance to be a barrier for them not to reach out to us, that they should emulate the idea of the omaliche group and come to our aid.