Dangers Of Cartel Journalism And Nigeria Press Organization's Action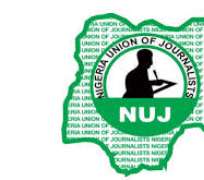 Professional journalism, the act of gathering, analysing, interpreting and disseminating information through a mass medium to large dispersed audiences is considered as vital to individuals, organisations and Society generally. This is more so when viewed from the core services of informing, educating and entertaining the audiences.
These are besides providing platforms for checking malpractices in society, building agendas, crystallizing public opinions, making input into public and business policies as well as participating in programs in these sectors.
In discharging these noble functions and others, the mass media and professional journalists are guided by laws and ethics, already known to every genuine practitioners, especially mass communication and journalism graduate- practitioners.
Aside these, other conventional principles of operations are set out by the journalism academic discipline and the professional organisations that guide the practice.
Unfortunately, as often said, the codes of practice and organization of journalism profession are like mere paper codifications being flanked, without drastic efforts to sanction erring practitioners. But, only recently, the Nigeria Press Organisation (NPO), comprising Nigeria Union of Journalists (NUJ), Newspapers Proprietors Association (NPAN) and the Nigerian Guild of Editors (NGE) authoritatively banned beat associations in the country's media system.
The lingering lack of control over the practice of journalism in Nigeria is perhaps due to lack of
power to journalism to restrict entrance and punish offenders. This lack of legal power to the Nigerian Union of Journalists (NUJ) which is merely registered as a professional trade union and it's occupational definition of "journalist" as a person employed by a media organization to gather, edit and relay news and editorial commentaries and analyses, besides elites' fear of an independent press are major causes of its inability to control the practice. Its lack of charter status is seen by some as something in line with fundamental rights to free speech and writing which are open to any person who wishes to impart information and ideas in democratic system. Even the Nigerian Press Council (NPC) is a toothless bull dog in same regards stated above.
Thus, the noble journalism profession, unlike its sisters: advertising and public relations professions that are chartered, tends to suffer poor public perception of easy entrance, quackery, unlawful and unethical practices most.
These snags, besides media owners hiring of cheap quacks, have made it difficult for the NUJ to control the practice, especially as the practice is treated as all-comers profession, lacking an agreed statutory definition of who the real
professional ought to be.
These trends are believed to be rooted in the early times of the profession started by Christian missionaries and the aggrieved nationalists and early post independence practitioners, most of whom had no requisite journalism education, but faired. The delay in setting up journalism schools or programs in Nigeria is another root cause of delayed professionalization.
The Nigerian journalists of those eras, despite relative crude technologies, meagre funds and colonial oppressions practiced with conscience, hence were able to facilitate independence for Nigeria and championed early post independence development.
Although emergent post independence and present day media and journalists in Nigeria are still often adjudged as vibrant, world over, they have jettisoned public interest for commercially, ethnically, religiously, politically and personally driven motives, thus characterising many practitioners as lackeys and bootlickers of the rich.
Therefore, the contemporary Nigerian press, apart from joining other activists to end military rule has not successfully done so for the lingering national issues of religious, ethnic and political conflicts as well as underdevelopment. This failure is despite the current state of high-tech media technologies, improved mass communication education, better educated audience, larger number of media outfits as well as democratic freedom, afforded by Sections 22 and 39 subsection 1 of the 1999 Constitution and FOIA, though with limitations.
These factors have rather been nearly rendered ineffective by media houses' and journalists' inability to adhere to ethics and organizational principles of practice set out by internal regulatory bodies and the discipline.
This problem is symbolized in the syndrome of "brown envelope" which is as notorious as the label "Roger" in one profession ( name withheld) in the country.
It is often argued that poor working conditions and delay or no remuneration at all from media owners, the quest for survival at any cost, led to the proliferation of unapproved associations within the NUJ.
The positive essence was to protect the rights of beat reporters against hazards of arbitrary arrest, sexual or physical harassment, manhandling, seizure and confiscation of equipment and blackmail by lawful security personnel and civilians in course of news work, as internal and external regulatory bodies often fail to protect them.
An often hidden reason for beat associations is the protection of the welfare of its members. Therefore beat associations provide a common front for genuine gratuitous and unethical scavenging for favours. News makers in the beat also lawfully and unlawfully offer such gratifications to the reporters.
For clear understanding a beat association is a group of reporters or correspondents covering a common geographical location, organization, subject area or specialized aspect of journalism, for the genuine purposes of reporting news, socializing and protecting the members. Examples of beats as main sources of news are states, state government houses, local government council's, ministries, departments and parastatals, sectors, industries, aviation, marine, transport, health, politics, political parties, education, sports, all of which have associations. They are not official wings of the NUJ like NAWOJ and SWAN, the latter of which also became a problem to NUJ. Beat associations are also different from non-profit organisations formed by journalists for promotion of health, education and religion matters etcetera, which genuinely need support.
Along the line, the worrisome trend of beat associations turned out to be advanced arrangement with the organizations covered by beat reporters to collect gratifications and serve the places covered with regular positive reports and outright killing of negative stories.
Propelled by poor welfare in the media and survival instinct, beat associations became the most guaranteed means to make ends meet. Some of the benefits are illicit cash and kind gratifications - regular Brown Envelopes, monthly or quarterly stipends, occasional largesse for feared or friendly reporters, moonlighting: consultancy jobs, pay rolling for salaries, employment, political appointments, contracts as well as gifts even including cars and houses, besides wedding, birthday, funeral, training sponsorships and lots more.
These benefits do not only help to augment the income of reporters having average welfare in their media houses, but equally provided illicit hope for the un-salarried ones conditioned by the media owner to survive with the Press ID Card as meal ticket.
As the beat association practice blossomed, some media owners, media managers, editors and marketing staff equally joined the fray by collecting kickbacks from beat reporters or go for executive treatments from the beats as well as post loyal reporters to lucrative beats to share the booties.
This patronage lead to proliferation of beat associations as well as made them even more powerful than the lawful professional bodies which depended on well connected beat officials to get sponsorships for the higher bodies' programs and mobilization of support for personal internal elections.
Thus, the unofficial associations even waxed better than official bodies to the extent that they regularly carryout various bash programs and even give questionable and monetized awards to undeserving personalities.
Some of the associations also disregard the authorities of the profession, especially the NUJ whenever called to order and boycott general activities or threaten to mobilise against any uncompromising officer in union elections.
In fact some powerful beat leaders could influence the transfer or sack of a colleague who claim to be a top notch of the overall union or influence peddler in his or her media house.
The trend of beat associations in Nigeria typifies what a mass communication scholar described as a cartel and cartel journalism. The near secret cult situation in which beat journalism is now practiced, really calls for concern. Many of the beat associations, particularly, the ones newly designed for survival and those full of unsalaried members in cities, especially Abuja, Nigeria's Federal Capital Territory, have become huge obstacle to truthful, objective, critical, investigative, analytical, public interest, security based, participatory and development oriented journalism.
The negative impact is even clearly manifested in the copycat news reports that has attracted an academic name as pack or bandwagon journalism. Hardly do the media of now, carry exclusive lead stories nor write critical editorials and commentaries because a compromised dog can not bite its compromiser.
In connivance with information managers in the beats who also gain monetarily, they arrogate to themselves the power of accrediting their members, often times without recourse to the NUJ, and try to close shop against qualified journalists, based on unprofessional conditions set by them. Even when real journalists not in their accreditation or 'voucher' lists are allowed to cover such monopolised beats, they are allowed to do so in the perifery and snubbed like Ebola patients. This restriction though is of strategic benefit to the beat, amounts to unlawful monopoly of news coverage by the beat cartels' members whose inordinate motive is to get perks
from organizations that are not their employers.
As if these shortcomings are not enough, some beat cartels' members , shamelessly pressure beat news makers for bogus and unmerited gratifications and blackmail them if not given or mobilize for boycott of coverage.
These attitudes and lack of manners in approaching sources for news and the undignified scramble for edibles at occasions have indeed worsened the image of the noble profession.
Given all the shortcomings, the prescription of beat cartels by the NPO is a step in the right direction to a large extent. It should therefore match words with actions and also clean its side of the factors causing unethical practices.
In stamping out cartels, the NPO though could meet legal hurdles as journalism lacks charter defining who a journalist is, besides constitutional rights to free press, speech, and assembly not being exclusive to the NUJ or NPO, it should stand on the NPC and Trade Union Registration Acts, which have to a good extent empowered the profession to control the practice.
Age long beat associations such as those of marine, aviation, education, defence, politics etcetera if difficult to proscribe, could be given stringent conditions to operate, including specialised training for specific beat coverage to inculcate professional attitudes.
The organizations conniving with beat cartels should regard NUJ as the umbrella journalism practice body and liaise to get ethical and effective reportage. They should also recruit qualified public relations practitioners or restrain existing ones to effectively and ethically handle media relations for their benefits and those of publics.
The ministries of information in states, Federal level and the Federal Capital Territory Authority, Abuja, statutory media regulatory bodies, ministries of justice at state and Federal levels as well states and national
legislatures need to support the NPO to stamp out beat cartels. An effective and responsible press will enable government realise effective public communion management and equally douse rumours and hate speech, hence government should support the NPO.
With the worsening situation of all-comers-syndrome in this era of social media citizens journalism given its attendant malpractices, the time seem to be ripe for a law to empower journalism to at least limit reportorial and editorial functions to those with acceptable academic and professional qualifications in communication disciplines, to practice as professional journalists and editorial managers. Such a charter should also stipulate equitable remuneration for professional journalists.
In the interim, the NUJ should conclude the ongoing national accreditation as a mechanism to check impostors and unethical
practitioners by making the register public for news makers to check claims and report offenders.
It should also liaise with internal and external broadcast regulatory bodies to fight a common cause on the issue of cartel journalism.
In addition the International Institute of Journalism, Abuja should be upgraded, and by a new law be made compulsory for a certain duration of professional studies with internship for new entrants into journalism, despite having communication background. There should also be a short professional training and certification examination for extant and intending practitioners not having communication qualifications at all as done in Italy.
When concluded, journalists accredited by the NUJ should be given certification, accreditation cards and numbers as done in China where only Press Card Holders regarded as professional journalists are attended to by news makers. Professional journalists in Nigeria may as well use end-name suffix such as PJ - Professional Journalists or AJ - Accredited Journalists or RJ - Registered Journalised, sieve the shaft from the flesh.
These and more will sanitise journalism practice in Nigeria, and make it to be at par with best global practices that can catalyse transparent and participatory development in the country.
ETETE ENIDENEZE is a Media Practitioner