As Anambra Decides Today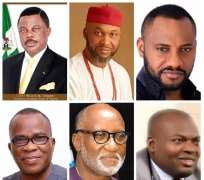 Cross River State born James Atah sends ripples through Anambra State with this gripping narrative that must guide Ndi Anambra as they decide their fate today. Please read...
LET IT RAIN…..!
Anambra; in a few hours, the good people of Anambra will hold the attention of the nation as they cast their lots across the state to determine the colour of skies over their heads. They have several options but their votes will be guided by only two appeals ; keep the fresh smell of spring or experiment with the uncertain smell of something new.
It's been all bloom for the state in a season of national drought because they voted a rainmaker into power the last time. The steady showers have brought nothing but lush greenery and calm to a land once wracked by persistent chaos and endemic crime.
Before they stick their thumbs on that pad of indelible ink or whatever technological gadgetry INEC might deploy to decide who steers the ship of state for the next four years, it may help to reflect on the way things used to be.
And we don't have to look too far. Until 4 years ago, real power in Anambra flowed from the barrel of a gun. Political and economic actualization lay within the tiny finger on the trigger of a few daring crime lords. Even sitting governors could be removed by gun wielding political thugs. For those who could brandish a gun, an illustrious career path lay ahead in kidnappings and robberies. There was no shortage of motivation; the state sank to its knees, as kidnappings and violent crimes flourished like termites in an anthill.
Then, after crossing the magnificent Niger Bridge, timeless in beauty, you were ushered into the forbidden reality. The peaceful waters of the Niger lay in serene contrast to the murky territory that stretched on the other side of its banks. Driving through Anambra, you had to be on the lookout for three things; the pot holes, the police check points and the road blocks by robbers, kidnappers and other predatory elements. If you couldn't slip in incognito, you had to hire an army of paid, combat ready riot police, to move around, for those who could afford to. But these private measures were barely enough to keep even the high and mighty safe.
All of Obiano's predecessors had to live with this grim reality. Routine ransom payments running into billions of Naira per month swelled private and government secret ledgers. Chinese workers and other foreign nationals were forced to flee projects in Anambra state as they became sitting ducks for kidnappers with regrettable cases of fatalities of those held in custody for long periods. Towards the end of Peter Obi's tenure, some two billion Naira was released to oil the wheels of the kidnap ring in Anambra as two dozen top business men and industrialists and their families became prize cows in the grips of the omnipotent kidnap empire in the state.
It was a tough place akin to the mythical kingdom where people fled from weapons of iron only to be pierced by bronze tipped arrows. From Bakassi boys to the hundreds of neighbourhood vigilante groups set up to combat crime by previous administrations, Anambriarians found no succour nor drop in crime rate. The ad hoc security initiatives turned out to be largely effective only in visiting more terror on the populace with thousands of extra judicial killings. The Bakassi boys in particular attained national notoriety and became the stuff of folklore by their purported possession of supernatural powers. This terrifying anti-crime initiative by Chinwoke Mbadinuju allowed psychic indictment of criminals and summary murder of unsuspecting citizens, dragged from their homes and market stalls and cudgelled to death or set ablaze, usually in public places, just on the whim of the witch hunting powers of the vigilante . No formal trial or conventional investigations were required. Yet there was no reduction in crime!
This crime epidemic had reached breaking point when Obiano was sworn in as governor in 2014. He understood that no meaningful economic blueprint could be implemented under this atmosphere of insecurity. And, in what has become a national puzzle, he solved the security problem without fuss and drama. Now, the state is brimming with westerners and other foreign nationals working in industrial farms, factories, construction and other areas to create a buoyant economy.
Today, you could stop by at Stanel , a 24 hr multipurpose centre by 2 am on any given day for a glass of fresh fruit juice and a bit of indulgence at the physio therapy section. And if you have the nocturnal itch, you could dance all night at any of a dozen night clubs in Awka, catering to the groovy hormones of the young and active without looking over your shoulders on your way home. For the tourist or driving enthusiast, you may treat yourself to the breath taking night view of a tropical metropolis on the rise by pulling up in the middle of any of the two new flyovers running through the heart of town to gaze at the cloudless sky or the blinking lights of patrol cars down below, maintaining round the clock watch to ensure you could have this priceless moment of isolation and serene self -absorption without fear of being kidnapped.
Christmas is around the bend, and scores of Anambrarians observing the annual pilgrimage home will be impressed by the physical and infrastructural transformation of the state capital. But more importantly, this time around as in previous years since he took over, families can look forward to that end of year reunion without worrying about contributing to a ransom trust fund! Kidnappers are on the run, even in neighbouring states where the governor's security apparatus has been deployed over and over again to help rescue kidnapped citizens of other states and Anambrarians resident in those states.
This monumental achievement is the top concern of every concerned voter in Anambra state. Obiano's accomplishment in an area that completely defied the best efforts of all his predecessors sticks like guiding beacons on the minds of the electorate as they head to the polling booths. They know, better than most Nigerians, the benefits of fair weather; they can see it in the piles of Anambra rice that will soon flood the market this Christmas from the expanding rice fields of Obiano's agro revolution, the export based vegetable farms, and multiple policy initiatives that ensured Anambra was the only state in the entire South East that witnessed a rise in GDP this season of recession.
They know their votes will determine whether civil servants continue to receive their salaries with unbroken regularity in the next four years. Even the 6,000 civil servants imposed on him in the last few moments of Peter Obi's tenure as a dubious mass job creation initiative know from experience that their job security is better guaranteed under Obiano's tested management of the economy. Pensioners, investors, travellers and ultimately all stakeholders know what is at stake and the highest stake in this election is to keep the rains coming.