EXCLUSIVE: FG Spends N876 Million Per Term Feeding School Children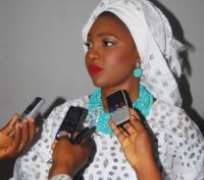 The Federal Government (FG) is presently spending the whooping sum of N876 million feeding 244, 000 children in primary 1-3 in Delta State, The Nigerian Voice, can authoritatively report.
The Executive Secretary, Delta State Small, Micro and Medium Enterprises Development Agency, Mrs Shimite Bello, who stated this Monday in Asaba, revealed that the federal government spends N292 million every month.
According to her, a total of 244, 000 pupils of primary 1-3 are being fed each day, pointing out that a total of 2, 150 caterers have been engaged to do the job, but hinted that FG delayed in the release of funds to the caterers.
She also hinted that 300 caterers were yet to be cleared, "but I believe that they are working hard to ensure they attend to the children in their care. A child consumes N70 per day".
She explained that the caterers have been told to have gardens behind their houses where they can plant seeds given to them to avoid spending the monies met for the feeding of the children on tansport to the market for food items.
"We have told them before to have gardens but they didn't. But now, we have given them the seeds and we are monitoring them. We have a monitoring team on ground and we have gone beyond what they asked us to do", she added.