Rwandan First Lady, Ambassador Laila Rahhall El Atfani,  Moji Makanjuola, Ayo Makun (a.k.a. AY)  & Others to be Honoured in Amsterdam Tomorrow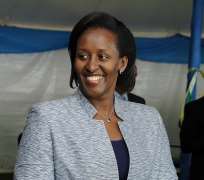 Her Excellency, Mrs. Jeannette Kagame
First Lady of Republic of Rwanda
The annual Voice Achievers' Award in Amsterdam, The Netherlands will take place tomorrow, 17th November 2017. This year's ceremony will celebrate the First Lady of Republic of Rwanda, Her Excellency, Mrs. Jeannette Kagame, the Founder and Chairperson of Imbuto Foundation, a non-profit organization whose mission is to support the development of a healthy, educated and prosperous society in Rwanda and beyond. She will be honored with "African Woman Personality of the year & African Heroine Awards".
Ambassador Laila Rahhall El Atfani
Ambassador Laila Rahhall El Atfani , is a Director of International relations and diplomacy of the Arab African Council for Integration and Development. She is very versatile with enriched communication skills in English, French, Spanish, Turks and Arabic. She is a gateway to many African/Arab businesses around the world. She is a renowned humanist and will be honoured with "African Humanitarian Award" at the grand ceremony in Amsterdam tomorrow.
Ayo Makun (AY)
AY is a multi-award-winning Nigerian actor, comedian, radio and TV presenter, writer, director, MC, inventor of AY's crib , AY live shows, AY Open Mic Challenge and AY comedy skits will add yet another award to his collections.The living legend will crack ribs when he mounts the stage at the event. The Voice achievers' Award will bestow on him," African Inspirational Award" for his contributions in inspiring many young Africans.
Moji Makanjuola
Moji Makanjuola is a Prolific TV producer, Director and Anchor person with several world class documentaries. Her passion is upliftment of the African woman, empowering and educating them at the community level and giving succour to the under-privileged, particularly Youths and Children with special needs. Her life mission is to use her calling and talent in journalism to contribute in making Africa a model, promoting an overreaching environment, capable of shaping National rebirth and character. She will be celebrated with "Life Time Achievers Award" at the grandiose ceremony in Amsterdam
In a statement by Mr Henry Oduenyi, the Managinging Editor of The Voice Magazine and a member of the Award Committee, "...this year's ceremony will bring to the front burner the quest for re-inventing Africa..." Thirty three distinguished daughters and sons of Africa, including special friends of Africa will be celebrated at the biggest African event in the Central Europe. Dutch government officials, African diplomats, international celebrities and other distinguished guests are expected at the event. The celebration will be concluded with a special gala night.