Born to praise Africa to hold 24 hours marathon praise in Osun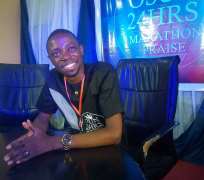 Spiritually inclined youths under the auspices of 'Born to Praise Africa' have organised a 24 hours marathon praise to seek the face of God for Nigeria and the entire African continent.
Addressing a press conference at the Correspondents Chapel of the Nigeria Union of Journalists in Osogbo, Osun State, the convener of BTPAfrica, Apostle Lawrence Odutoye Bamilaw said the event will feature music ministers who would lead worshipers in the 24 hours marathon praise.
Bamilaw said a huge crowd would converge at De Distinguished Multipurpose Hall along Iwo Road in Osogbo to worship, praise and pray to God to liberate Nigeria and Africa from the shackles of poverty and other problems inhibiting the progress of the black race.
According to him, "This 24hrs Marathon Praise is an Encounter with Apostolic Mantle and that is why it is tagged Apostolic Prays and Warship. We will pray in praise and declare war in worship. When you go extra mile with God, you get extra result from God. That is why we are going 24hours Marathon non-Stop".
Bamilaw added that in seeking the face of God, there would be a street praise rally on Thursday and that the 24 hours marathon praise would take place between Friday and Saturday.