Cabal Must Go Holds New York Special Meeting [Video]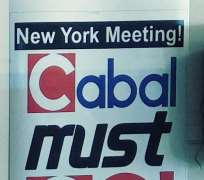 In preparation for the Nigerian political revolution and refounding of Nigeria, the Cabal Must Go group has staged its New York special meeting. The meeting comes after several meetings across Nigeria including in Lagos, Abuja, Cross River, Akwa Ibom, Calabar, Kaduna and Kano.
Cabal Must Go has declared a political storm for Nigeria. Among issues deliberated at the New York meetings was the issue of choosing from several registered political parties that have offered the group a platform to field its presidential and other electoral candidates on.
The next global meeting is planned in Africa in early 2018.
Longer video:https:
Short clip, Anthem point: